If you need vision correction but don't want traditional eyeglasses, then contact lenses are an excellent choice. However, a lot of people still have questions about contact lenses? This article will detail almost everything you need to know about contact lenses, from their types and features to their availability!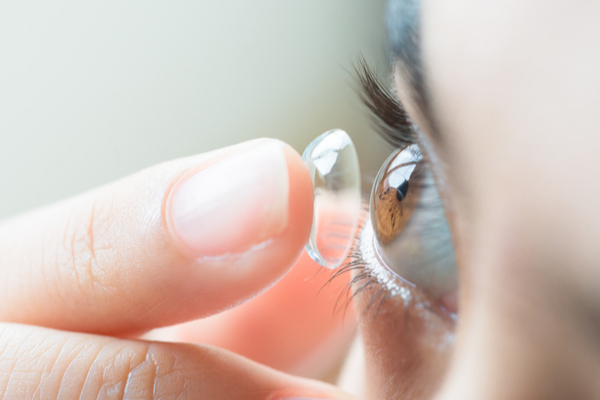 What Are Contact Lenses
Contact lenses are basically thin lenses placed directly on the cornea of the eyes. The lens itself is naturally clear but is often given the slightest hue of colour to make it easier for wearers to handle. It also depends on choosing which colour you would like to wear. Contact lenses are usually used to correct vision problems but you can wear them even if you have dry eyes. We are now available with more comfortable and viable contacts.
Different Types Of Contact Lenses
There are several types of contact lenses that generally fall under two main categories of contact lenses;
Soft lenses
Rigid gas-permeable
Soft lenses
Soft contact lenses are widely used lenses. They are made of silicone hydrogel polymers, which is a flexible plastic material. Soft lenses allow oxygen to pass through them to the cornea, as oxygen is essential for healthy corneas. Besides other advantages, disposable soft lenses can also relieve dry-eye issues in older adults.
Hard lenses
The gas permeable lenses have their own benefits for example; they provide clearer vision, are more durable, and oxygen easily flows through them. [1] They may take time to feel comfortable initially but you can get used to them within 2 weeks. Hard lenses last longer than soft lenses, thus, we can say that GPs are less expensive over the life of the lens.
Extended-Wear Contact Lenses
As the name indicates these contact lenses are available for overnight or continuous wear. You can use them both in soft or hard lenses.They can be worn up to seven days continuously and some of them are approved by the FDA for more than 30 days. The downfall of extended wear lenses is that they can sometimes enhance complications. They also require regular monitoring and professional care.


Hybrid contact lenses
Hybrid lenses are designed to provide the comfort of a soft lens with the strong vision of a hard lens. People may not usually prefer buying them because the lenses are more difficult to fit and more expensive to replace, but these are considered the best for those with regular corneal astigmatism.

[2]

Disposable Contact Lenses
Disposable Contact are soft contact lenses that are used for a period of time about one to 6 days and then disposed of. They are replaced on a planned schedule.
Disposable lenses are available in different colours and they also tend to lower the risk of eye infection.
Multifocal lenses
Multifocals are designed to correct nearsightedness and farsightedness. They allow different lens powers to target vision at varying distances. Multifocals provide better vision and you can also dispose of them.[3] Those presbyopic patients who wear glasses, people who wear contacts but also use reading glasses, and those who wear monovision contact lenses are good candidates for multifocal lenses. 
How to Avoid Contact Lens Complications?
You must know that caring for your contact lenses like cleaning, disinfecting and storing them is very important. Here are some ways to avoid any type of contact lens complication. [4]
Don't sleep with your contacts as this can lead to serious complications including corneal infection.
Always get a prescription for your contact lenses. Without a prescription, you can end up buying the wrong lenses.
Use a fresh contact solution.
Lather up with soap and water before touching your lenses.
Schedule regular follows up visits.
Best Contact Lens Brands
The following are some of the best contact lens brands in the USA:
Acuvue
Dailies
Air Optix
Biofinity
Acuvue is one of the highly recommended and top-selling contact lens brands available. The DAILIES brand is also worth looking into when making a decision. DAILIES makes a variety of disposable contact lenses for daily replacement, including contacts for astigmatism. The AIR OPTIX NIGHT & DAY AQUA 6 Pack are popular for astigmatism. [5]Biofinity makes a huge variety of lenses including toric, multifocal distance, multifocal near, and a few other types.
Conclusion
Today, buying contact lenses is easier than ever. Make sure you visit your eye care professional before changing your contacts. If you are allergic to long term contacts, use disposable lenses. Shop around to find the best brands for contact lenses online. Do your research before making any final purchases.
REFERENCES
"Soft vs. Rigid Contact Lenses." University of Iowa Hospitals & Clinics. July 28, 2020. https://uihc.org/health-topics/soft-vs-rigid-contact-lenses.
"The Difference Between Hybrid Lenses vs. GP Lenses vs. Disposable Soft Lenses." Weston Contact Lens Institute. September 25, 2019.
https://www.westoncontactlens.com/the-difference-between-hybrid-lenses-vs-gp-lenses-vs-disposable-soft-lenses/.
"Multifocal Contact Lenses." CooperVision®.
https://coopervision.com/about-contacts/multifocal-contact-lenses.
Benoit, Douglas. "10 Ways to Avoid Contact Lens Complications." Review of Cornea and Contact Lenses. January 15, 2014.
https://www.reviewofcontactlenses.com/article/10-ways-to-avoid-contact-lens-complications.
Ostenfeld, Allan. "5 Most Popular Contact Lens Brands." Medium. July 20, 2019.
https://medium.com/@aostenfeldwrite/5-most-popular-contact-lens-brands-2492ac701ad9.