Long hair has been a hallmark in fashion, art, and history since as long as we can remember. Over time, long hair has become synonymous with a beautiful aesthetic. However, growing a long, thick head of hair can be super frustrating. When that's the case, hair extensions can easily be the right solution.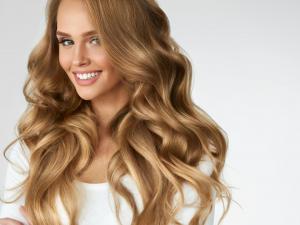 Hair extensions can add mystique to your appearance and personality. The good thing is that extensions can be utilized in a variety of ways for a stunning new look every time.
What Are Hair Extensions Used For?
Hair extensions are excellent for changing your hairstyle. They add hair, either by small bundles or track, to your natural hair. With extensions, you can modify your hair's length, volume, thickness, or even experiment with trendy cuts and colors without affecting your natural hair[i].
What Are The Different Types Of Hair Extensions?
Hair extensions can be human hair or synthetic hair, non-permanent or semi-permanent[ii]. Below are the different extension types[iii].
1) Clip-ins: The use of pre-clipped extensions that hold the band of hair to your scalp. They are the cheapest and fastest hair extension type; hence are most suitable for easy and temporary options. The best thing about clip-ins is that you can apply them yourself.
2) Tape-ins: Entails pre-strapped strips of extensions that are glued or taped along with the roots of your hair by a hairstylist. Tape-ins are thicker and will give you picture-perfect hair. They are perfect for people who often wear their hair up. Keep in mind that tape-ins will need to be reinstalled as your natural hair grows out.
3) Sew-ins: Sew-ins, or weave, are among the oldest hair extension types. They are sewn to your natural hair by a hairstylist using a needle and thread.
4) Glue-ins: Glue-ins, or keratin extensions, are applied by heating and melting tiny keratin strands around your natural hair strands. This is one of the most expensive and time-consuming extension types.
5)  I-tips: strands of hair extension that are pleated to your natural hair strands with a flattened microbead. This type does not require the use of heat or glue.
Why Should You Consider Hair Extensions?
Several reasons could compel you to think about getting some hair extension[iv]. These could be:
1)
Adding volume, thickness, and length to your hair
If you intend to switch from short hair to a long, thick, and straight one, then hair extensions are an instant solution. You can also add to the volume of your hair by using extensions.
2)
A solution to a bad haircut
Sometimes your salon can give you a terrible haircut that you simply cannot do with. Your ideal solution on such an occasion would be to use hair extensions to cover up the mess.
3)
Low Maintenance
If you have a busy schedule with minimal time to spend on styling a hairstyle every other day, then you should consider using hair extensions; they require very low maintenance. They will add versatility and mystique to your everyday look.
4)
Adding colors or highlighters
If you are considering playing around with colors on your head, there is no need to have your natural hair undergo color changes; you can get colored extensions instead. You will only need to clip in these extensions and have your desired colors on your head.
5)
Experimentation
Some people love to experiment a lot with their hair, having stylistic bob cuts, curly strands, or colored streaks. If you are one of them, you can consider hair extensions for convenient experimentation without tampering with your natural hair. This will ensure that your hair is kept away from chemicals and hair styling tools.
6)
Getting an instant look for a special occasion
You must have noticed that celebrities always have new looks every time they appear in public. The secret is in hair extensions. There are top-quality extensions that look like natural hair and are perfect for switching to an instant attractive look without the need to use chemicals or harsh tools.
7) 
Staying in fashion
Staying in vogue can easily be facilitated by hair extensions. They will help you achieve any trendy hairstyles that you wish to have. 
Hair extensions have made significant progress over the years. With the beauty industry's growth, the demand for new and fashionable styles, methods, colors, and lengths has grown too. When it comes to matters of hair extensions, a rule of thumb is that top-quality hair, blended with a competent hair stylist, brings out the difference between a mistake and a miracle.
Using hair extensions brings a lot of benefits. They will give an elegant length and boost patchy styles or short hair. They amalgamate into your natural hair in many ways, using a wide range of hair types and materials. There's no need to wait anymore; get yourself an extension as soon as possible and surprise people with your magnificent new look.
[i] Patwardhan, R. (2020, April 23). Hair Extensions And What You Need To Know About Them. Retrieved September 07, 2020, from https://www.femina.in/beauty/hair/hair-extensions-and-what-you-need-to-know-about-them-126179.html  
[ii] Retrieved September 07, 2020, from https://www.airyhair.com/blog/different-types-hair-extensions/ 
[iii] Whittington, P., & Pia Velasco Pia Velasco is the Associate Beauty Editor at Good Housekeeping. (2019, September 16). Chrissy Teigen's Hairstylist on the Secret to Her Perfect Hair. Retrieved September 07, 2020, from https://www.goodhousekeeping.com/beauty/hair/g28449501/best-hair-extensions/  
[iv] Chen, Y. (2017, September 01). 7 Benefits of Wearing Hair Extensions. Retrieved September 07, 2020, from https://medium.com/@t1hairs/7-benefits-of-wearing-hair-extensions-5a6bd8d65e68