Every great makeup look begins with a smooth, beautiful base; the foundation. Foundation comes in all different types of formulas and is applied to the face to create a uniform, even color and texture to the complexion. Find some of the best formulas below![i]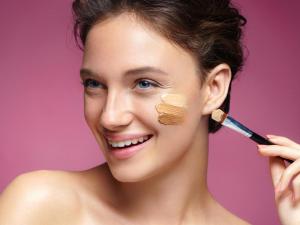 Maybelline and Covergirl have been around forever. These brands offer a tonne of different foundation formulas to suit almost any skin type. Here are some top formulas to get you off on the right foot!
Maybelline
Maybelline produces and sells medium, sheer, and full coverage foundation products that suit oily, normal, dry, and combination skin. Their products control shine and noticeable pores while hydrating your skin, resulting in a fresh-faced finish that endures.
Maybelline foundation products can be categorized as anti-aging, creamy, liquid, long-wear, full coverage, and matte. The benefits are anti-aging, anti-shine, balancing, blendable, contouring, correcting, long-wearing, mattifying, moisturizing, pore minimizing, shaping, skin-perfecting, and skin tone matching[ii].
1.  Maybelline Dream Fresh Foundation
Dream BB, America's number one BB, is lightweight; it brightens, smoothens, enhances, blurs imperfections, evens skin tone, hydrates, and protects with SPF 30 for a healthy skin glow. BB stands for Beauty Balm. This product combines makeup and skincare for perfect skin in one simple step. It glides on seamlessly for smooth application giving sheer coverage alongside an additional benefit of SPF to protect your skin from harsh sun rays. This product leaves the skin feeling fresh and natural.
Features:
Protects with SPF 30

Oil-free and heavy ingredients

Suitable for all skin types

Available in 5 skin-tone perfecting shades.

Non-comedogenic

Maybelline makeup can be removed using micellar water.
Directions/How to Use:
Apply a thin layer to your skin

Can be used with or without a moisturizer
2.  Maybelline Superstay Matte Foundation
This product has won awards, which include Allure's Best of Beauty Award. It is famous for delivering a 24-hour coverage and a spotless finish that lasts all day long. The lightweight, heavy impact coverage formula slides onto the skin for an unblemished full-day makeup finish.
Features:
Oil-free

Does not clog pores

Long-lasting full coverage

Dermatologist tested

Lightweight and high-impact
Directions/How to Use:
Apply to your face and blend using a fingertips, brush, or Beauty Blender.
Covergirl
Covergirl's foundation products are designed to help you have your best look. All their products are cruelty-free, and they come in powder, liquid, or compact formulas. The foundation products are comfortable and long-wearing; they will definitely help your natural beauty glow.
Covergirl has been the industry leader for over 50 years, creating must-have beauty products that give users their best look. They make it breezy, easy, and beautiful to be yourself.
Covergirl foundation products can be categorized as BB creams, age-defying, and hydrating foundations[iii].
3.  Covergirl Cream to Powder Foundation
The Outlast All-Day Ultimate Finish Foundation product will give you a three-in-one coverage that lasts all day. This product slides on seamlessly like a liquid to conceal and cover where you want it, then dries to a soft powder finish. This means that you get the results of 3 different products contained in one sleek little compact. It comes with a sponge applicator and in several shades to choose from.
Features:
Three in one: works as a liquid, concealer, and powder all at once.

All-day wears

Sponge applicator included

Cruelty-free

Oil and scent-free

Dermatologically tested
4.  Covergirl Trublend Colors
This product comes with a formula that isn't drying or cakey.
Features:
12-hour comfort

Oil control

Transfer resistant

Pore minimizing

Cruelty-free
Foundation helps to even your skin tone, conceal skin redness, and give a lovely blank canvas for bronzer, blush, contour, and highlighter. Having the right product for your foundation, and makeup in general is essential to getting the best of looks. With the thousands of foundation products available in the market, it is crucial to choose your foundation carefully to avoid landing yourself in substandard products that could damage your skin instead of giving you a glowing skin. You can discern a good product by looking at the ingredients from which it is made[iv].
[i] Foundation (cosmetics). (2020, August 08). Retrieved September 07, 2020, from https://en.wikipedia.org/wiki/Foundation_(cosmetics)
[ii] Foundation Makeup – Long Lasting & Liquid Foundation. (n.d.). Retrieved September 07, 2020, from https://www.maybelline.com/face-makeup/foundation-makeup?page=2
[iii] Foundation. (n.d.). Retrieved September 07, 2020, from https://www.covergirl.com/en_us/face-makeup/foundation/
[iv] INCI Decoder. "Decode Ingredient Lists Like A Pro." Accessed September 2020. https://incidecoder.com/