There is no doubt that a new hairstyle has the power to dramatically change your look, and celebrities are the masters of switching up their looks. Celebrities change their hair color for various roles in their career. However, we often become so familiar with the artificial hair color of some celebrities that when their natural hair color makes the occasional cameo, it comes as a shock. 
Here are a few celebrities' natural hair transformations that will surprise you. 
1) Zooey Deschanel Is a Natural Blonde
The American actress not only known for her work in some famous movies including 500 Days of Summer, The Hitchhiker's Guide to the Galaxy, and The Good Girl. She is also known for her long dark hair, chunky fringe and quirky style. But most of you don't know that her natural hair color is not honey.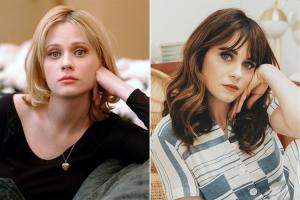 By double taking her pictures at this earlier red carpet, this shows Zooey is a natural blonde. 
2) Reese Witherspoon Is a Natural Brunette   
Best known for her roles in films and shows including Big Little Lies, Gone Girl, and Legally Blonde. We associate the actress with beautiful blonde hair, most likely after playing the famous Elle Woods character. While you probably know and love Reese Witherspoon as a blonde, that's not her natural hair color.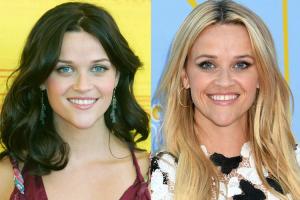 The American actress and producer recently posted her childhood photo to Instagram revealing that her natural hair color is actually brown. In her long career, the actress has tried a multitude of different hair colors, from deep chestnut brown to near-platinum blond. Considering how flattering each hair color looks on Witherspoon, it would be hard to distinguish which is her natural hue had it not been for the childhood photo.
3) Is Pamela Anderson a Dark Brunette?
Pamela Anderson instantly gained international fame and the reputation of a Canadian bombshell after playing the role of Casey Jean Parker, a blonde lifeguard with a body to die for.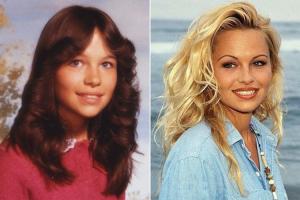 The hair is a surprise for us because Pamela Anderson is a natural brunette. The actress kept blonde as her signature look for many years, but now she decided to reveal her natural color. The notorious blonde bombshell chopped off her signature long hair into a Twiggy-inspired pixie, which took us all by surprise. She just shocked us by replacing her signature platinum blond color with a chocolate hue. 
4) Dakota Johnson' 50 Shades of Blonde
Dakota Johnson, known by the world for her role in the Fifty Shades film series, played Anastasia Steele, a blue-eyed brunette. Dakota isn't afraid to make some bold hair statements, but no matter how she switches it up, she usually keeps that signature medium length and chestnut-brown shade. And thus she is recognized as a dark-haired beauty.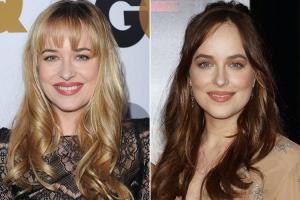 Johnson has decided to go an entirely different—brighter!—route. She's officially blond.
5) Sophie Turner's Fire-Engine Red Hair
You may have originally come to know Sophie Turner as a redhead, but your entire outlook on her and her hair color is about to change. Best known for her roles as Sansa Stark on the Game of Thrones, made her fans think that Sansa's copper strands were Turner's by nature.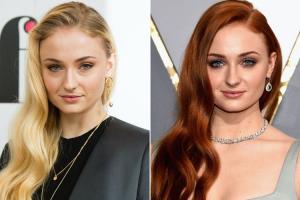 People  are still occasionally wondering about Sophie Turner's natural hair color and the answer might surprise you. The actress revealed that she is a natural blonde. 
6) When Jayne Mansfield Went Blonde
This American actress was one of the most famous blondes of the 20th century. She remained in highlights for her several romantic relationships including one with John F. Kennedy, the former U.S. president.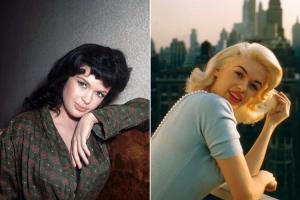 Jayne Mansfield was one of the Hollywood stars who usually has the word blonde inserted before the word bombshell. Jayne Mansfield's hair was dyed blonde for the majority of her film career, which may leave you wondering what she looks like with dark hair?
7) The Platinum Blonde Gwen Stefani
Gwen Stefani has developed a successful pop career as a solo artist. The No Doubt singer has been performing mane magic right in front of our eyes for almost two decades.But what hasn't changed over the years is the platinum, blonde look of Stefani.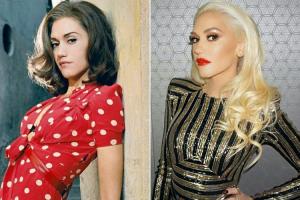 Gwen Stefani's hair has almost always been iconic platinum blonde. Stefani broke the internet when she posted a picture of her younger self celebrating the birthday of her brother. Her hair color was somewhat nondescript light brown or dark blonde. 
8) Leigh Lezark's Baby Blonde Shade
Leaving her mark in the fashion industry and modelling Lezark has developed an impressive fan base.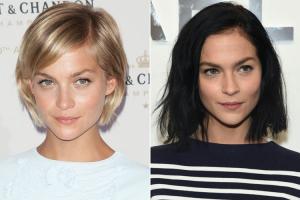 Lezark's been dyeing her own hair since she decided to go platinum at the age of ten. She reveals that the sun drew out all of her hidden highlights. She does it all by herself in the bathroom. Usually this happens every three weeks.
9) Sofia Vergara Is a Blonde
The most famous Latin Americans in the world, Vergara  is a natural blonde. Vergara is one of the highest-paid TV actresses worldwide. You may know her for her fierce brunette image, but a throwback photo she posted to Instagram reminded everyone that she's actually a natural blonde.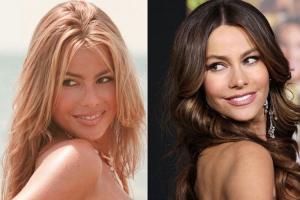 We think, either way, Vergara looks just as flawless with her natural color as she does with her darker dyed locks.
10) Charlize Theron's Default Blonde
Charlize is a most impactful and versatile hollywood actress who took dozens of complicated lead characters. The actress continually changes her hair color and style for different characters.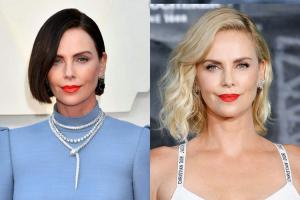 No matter what hair color and style she picked, she is absolutely gorgeous. However, she always tends to go back to her signature peroxide blonde. While Charlize's natural hair color is a dark shade brown.
11) Can You Recognize Laura Prepon?
Prepon is known for her black hair signature look. She played various roles including in movies like roles in Orange Is the New Black, The Girl on the Train, and The Hero.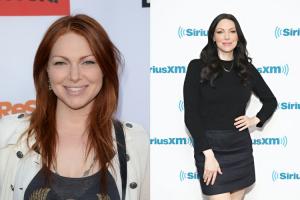 She's gone jet-black while playing Alex Vauss and both blond and red as Donna on That '70s Show. She looks absolutely stunning in every shade, but her fans might be wondering which one is her natural hue. The actress shared her childhood photos on Instagram, and she is a redhead naturally. 
12) Ariel Winter's Trademark Black Tresses
This gorgeous actress has her trademark black tresses. Besides acting, she studied law at the University of California.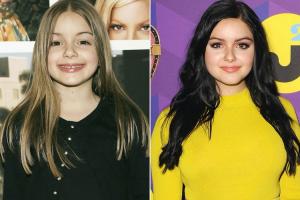 Ariel is a dark blonde naturally. She usually experiments with her hair and explores different hues for her looks. 
13) Brigitte Bardot's Public Blonde Image
B.B is a french former actress and vocalist. Like many other actresses, Brigitte Bardot also decided to dye her hair blonde. She has brown hair originally which she bleached for the role of Mio figlio Nerone. This then became her signature look.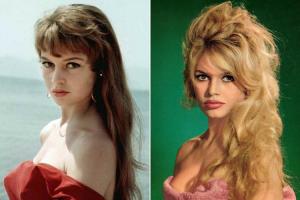 In 1995, the doe-eyed Bardot showcased her natural dark blond hair in Doctor at Sea. She traded her long mane for a platinum pixie wig to play a burlesque performer in Mam'zelle Pigalle. Soon after, she became an international sensation with And God Created Woman.
14) The British Blondie Emily Blunt
Gaining fame from British plays and TV dramas, she also worked in some popular American films. The actress loved to switch it up between different tones and hairstyles.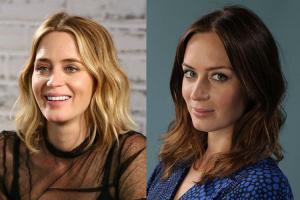 This might be shocking that Blunt is a natural blond underneath it all. She has been recognized for darker shades of brown. That became her trademark look.
15) What's Blake Lively's Real Hair Color?
Blake Lively, has a glamour personality overall. She became popular from her role as Serena van der Woodsen on the teen drama Gossip Girl. The actress kept Serena's blonde hair as her signature look.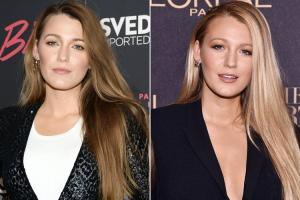 If you paid attention to her habits during her pregnancy, you probably already know it's not her natural shade. Revealing the natural hair color is shocking for us as she looks completely different in her hazel-toned natural hair.
16) The Blonde Beauty Olivia Wilde
Olivia Wilde has got her popularity after working as Remy Hadley on House. She has now chosen film direction as a profession. While changing hair colors does make you feel completely different.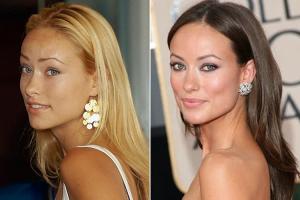 Olivia explained the reason behind dying her hair. She says that she was classified as a pretty girl or a hot chick when she was blonde. But when she changed from blonde to brunette that was the changing point in her career. So dark hair became her trademark.
17) Scarlett Johansson's Natural Chestnut Brown Hair
Scarlett Johansson is one of the highest paid actresses. Blonde Bombshell Johansson is a perfect representation of Old Hollywood glam.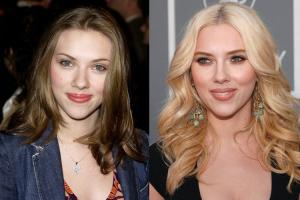 Johansson has been starring in movies since she was nine years old. Over the course of her career, she's tried almost everything from a deep red shade while playing Black Widow in the Avengers franchise to her signature golden blond. Recently she has even worn a chestnut brown colour. But you will be surprised to know that her real hair color is actually A beautiful shade of mocha brown.
18) Julianne Moore' Trademark Red
American actress Julianne Moore became an international star in the late '90s and early 2000s, receiving four separate Oscar nominations in the space of five years.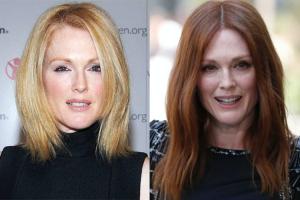 Julianne is possibly the most consistent redhead in Hollywood, always sporting a gorgeous head of rosy hair. But she's really a natural-born blonde with an amazing dye job. She's been known to dip into her lighter tone here and there for roles, but usually performs with her trademark red. 
19) Cara Delevingne's Iconic Appearance
English model and actress Cara Delevingne joined a modeling agency just after finishing school. Now she is the most in-demand fashion model around. Cara is graduated to blockbuster films such as Suicide Squad and Valerian and the City of a Thousand Planets.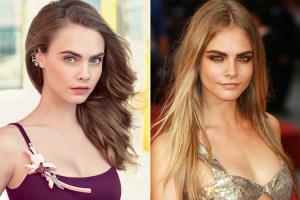 Her thick, dark eyebrows and mousy blonde hair are her trademark look. She has gone through a multitude of styles as a model. But the color we all assumed comes naturally to her is actually a lightened version of her real hair. She might have been this blonde as a kid, but now she's a darker shade of brown.
20) Marilyn Monroe Reinvented Herself
An icon of the Golden Age of Hollywood, Marilyn Monroe was the actress, model, and singer with a legendary personality and style. She was famous for acting as a comedic blonde bombshell. Undoubtedly she was the most in-demand actors of the '50s and '60s.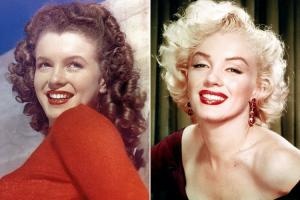 Those iconic peroxide curls were her trademark style. But she never let out her real hair color, which was a chestnut brown with hints of red. The only photos of her with her true shade are from her childhood. She reinvented other aspects of her personality after she dyed her hair blonde. 
21) Christina Hendricks's Shades of Red
Christina Hendricks is best known for her role as Joan Holloway on AMC's Mad Men's. The passionate red hair look is her trademark. The actress decided to keep the fierce hairstyle even after the role.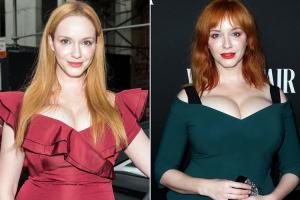 It's literally surprising to know that the actress is actually a strawberry blonde. She admitted that she spent half her life golden-haired. Now Hendricks has decided to return to her natural roots or a far lighter shade of red.
22) Leighton Meester Isn't a Dark Brunette
Leighton Meester is an actress, singer, and model. Leighton Meester landed the coveted role of playing Blair Waldorf on The CW Network's hit teen drama Gossip Girl. Aside from TV, she's appeared in several films, almost exclusively as a dark brunette.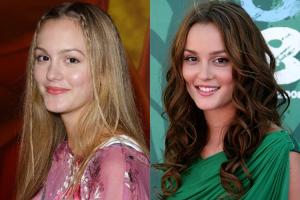 However, Meester's brown tresses aren't her real color. She grew up as a natural blonde. She had to dye her hair to play Blair Waldorf, and simply never returned back to her golden shade. It's rather ironic, as she is probably one of the most iconic brunettes in television history.
23) Anna Paquin's Vampire Edge
New Zealand-Canadian actress Anna Paquin became the second-youngest Oscar winner in history. After playing Flora McGrath in The Piano, she continued to excel throughout her younger years and collect accolades. In recent years, she's best known for her role as Sookie Stackhouse in HBO's True Blood.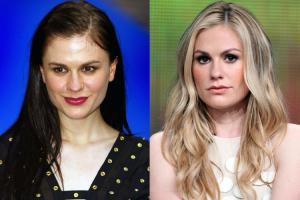 Both in True Blood and in real life, Anna has been a striking sandy blonde. She had to bleach her natural color for the role, but she liked it so much that it stuck. Her actual color is a whole lot darker and changes her look completely. The dark hair gives her a vampy edge.
24) Amy Adams' Signature Red
American actress Amy Adams has proven herself to be versatile through her epic performances over her career. Her success really started to take off, after playing a chatty pregnant woman in 2005's Junebug.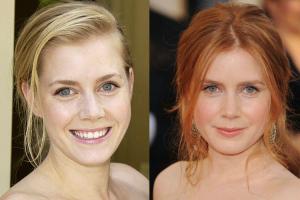 When you think of Amy Adams you think of red hair. But this is not her natural hair color. She has blonde locks naturally. Amy claimed it to have "dramatically influenced her acting career."
25) The Dark Disguise of Denise Richards
American actress and former model Denise Richards is currently one of the stars on The Real Housewives of Beverly Hills, having joined the show in 2019. She's best known for television.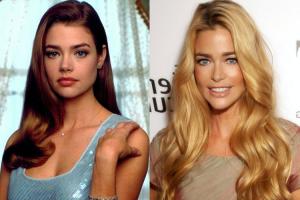 Richards has been rocking those gorgeous golden locks for a long time now. No doubt she looks gorgeous with her golden locks but the fact is this is not her real shade. Her real shade is deep chocolate brown. 
26) Marcia Cross' Faultless Red Hair
American actress Marcia Cross got her start in soap opera shows, before moving to the big TV productions.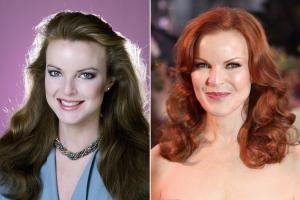 Marcia received huge acclaim for her portrayal of an image-obsessed suburban wife role of Bree Van de Kamp on NBC. She's known for being a gorgeous redhead, but it doesn't come naturally. She's actually a mousy brunette but has maintained her faultless red hair ever since she was thrown into the public eye.
27) Deborah Ann Woll's Natural-Born Blonde
American actress Deborah Ann Woll got her big break on HBO's fantasy vampire series True Blood in 2008. She is also recognized for playing Karen Page Netflix's Daredevil.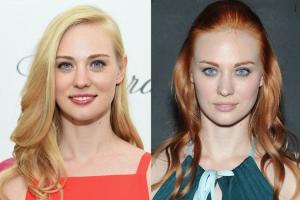 Deborah is actually a natural-born blonde. She kept it red in the years she played a vampire but went back to her true color once the show ended. Deborah admits to dying every now and then, however, claiming her natural shade is hard to see against her pale skin tone.
28) Hilary Duff's Chocolate Brown Shade
American actress Hilary Duff was a teen idol in the early 2000s, starring as the title character in the Disney Channel's hit show Lizzie McGuire. She was so successful at a young age that she even landed Disney's spinoff film The Lizzie McGuire Movie in 2003.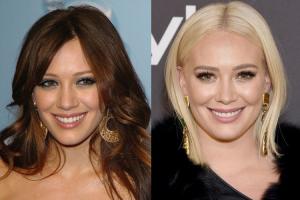 Her light blonde locks were a physical mainstay of both the famous character she played and the actress throughout her career. But her real hair color is a deep chocolate brown shade. We love her either way.
29) The Queen of Burlesque Dita Von Teese
American burlesque dancer and businesswoman, Dita Von Teese, is in large part responsible for bringing burlesque performance back into modern-day mainstream society. Her commitment to this aesthetic and her performative history has earned her the nickname, "Queen of Burlesque."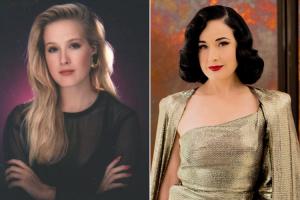 Shockingly, the glamorous old-world beauty with jet black hair is a natural blonde! 
30) The Vampire Look of Kristen Stewart
American actress Kristen Stewart got her popularity when she starred as the lead character in The Twilight Saga film series a few years ago. She played Bella Swan, the highschooler with fair skin and dark hair that stole the heart of an undercover vampire, Edward Cullen.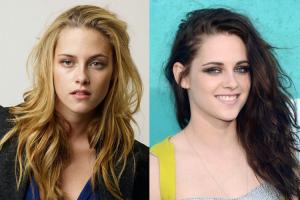 But the sad reality is that vampy look was entirely manufactured. She's a natural blonde. She's equally stunning with sunkissed tresses, but we can see why pulling for a dark, cool-toned shade worked in her favor. It really makes her green eyes and pale skin stand out.