What It's Like to Date Each Zodiac Sign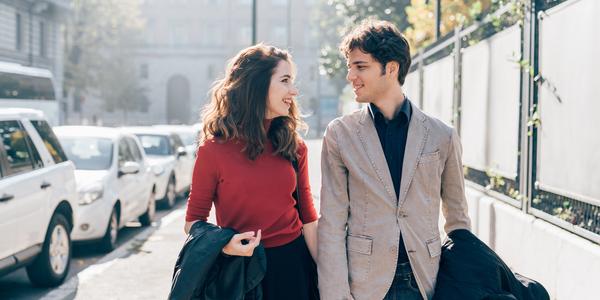 Written by Tomas
Yes, I've dated every zodiac sign. And yes, I learned something from each and every one of them. While many of us want to find our perfect soul mate or twin flame, dating (and breaking up) can teach us a lot about what we're looking for—and not looking for—in a relationship. By learning how to connect with each sign, you can expand your understanding of yourself, other people, and the world. I certainly did! While I've experienced heartbreak and confusion, I've also grown so much—I wouldn't be writing now if I hadn't. (Shout-out to my exes!) The lessons you learn from each sign can help your next relationship—no matter if they're an Aries or a Pisces.
Every zodiac sign can teach you something different about sex and love:
ARIES (MARCH 21 TO APRIL 19): F* YES OR F* NO.
Dating an Aries can be a polarizing experience. By nature, the ram is aggressive, direct, and impulsive. They don't like to wait around and they're always BOLD. Yet the most wonderful thing to learn from dating an Aries is to apply their "f*ck yes or f*ck no" rule to your own romantic life. If you're not excited to connect with someone, why are you wasting your time and theirs? If your crush isn't making you a priority, why are you chasing them? Thank you, next!
TAURUS (APRIL 20 TO MAY 20): EMBRACE *ALL* OF LIFE'S PHYSICAL PLEASURES.
Sensual Taurus is one of the most romantic zodiac signs—they're ruled by Venus, planet of love and pleasure, after all. As an earth sign, Taurus is very focused on the physical—we're talking good food, a dreamy atmosphere, and, yes, sex. The bull craves harmony and stability, so dating one can be a blissful experience. They don't want to rush things, preferring to slow down and savor the taste of dessert or the depth of your neck massage. While this may frustrate some zodiac signs, dating a Taurus teaches you to take your time and enjoy it.
GEMINI (MAY 21 TO JUNE 20): LEARN TO COMMUNICATE.
Craving a whirlwind? Date a Gemini. Ruled by intellectual Mercury, this zodiac sign demands constant stimulation, new surroundings, and plenty of talk. Dating a Gemini teaches you that you need a mental connection in order to sustain your relationship. Learning to communicate is a top priority, and it doesn't have to be *all* about feelings 24/7. You can also talk about whatever's on your mind—even if it's just a TikTok you keep thinking about, it's worth sharing.
CANCER (JUNE 21 TO JULY 22): IT'S ALL ABOUT TRUST.
Prepare to go deep when dating a Cancer! The crab hates the superficial and has a deep need for comfort, loyalty, and emotional security. Cancers will slowly but surely open their heart to you—and they expect the same in return. Trust is extremely important in any relationship but especially one with a Cancer. And although trust takes time and work to build, it's worth the work because a Cancer's nurturing and supportive presence is one of the most beautiful things to experience.
LEO (JULY 23 TO AUGUST 22): BE LOUD IN LOVE.
Leos crave passion above all else. They see their romantic lives as an epic love story—one may come with some highs and lows but is always ~dramatic~. Leos show off their love for their partners, and they expect the same in return. Dating a Leo feels like a fireworks show—seduction, dates, and sex will all be loud AF. With the Sun as their ruler, lions expect to be worshipped. Romancing a Leo teaches you that you should lead with your heart, no matter what zodiac sign you end up with. Don't be afraid to be loud about your love—and maybe you'll live that epic love story after all.