It's easier than ever to find a job in the new gig economy, particularly if you own a vehicle and can install a smartphone app. After that, you can deliver food, various goods, or drive passengers around town. Driving jobs are in huge demand, especially trucking, which is still America's number one job. [1] Whether you're looking to boost your income or have a full-time driving job, you have quite a few options before you. Here are the four best ways to earn money driving.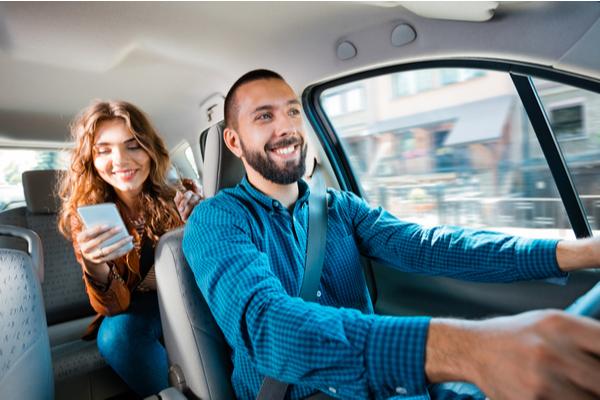 Work for Lyft or Uber
Ride-sharing services like Lyft or Uber are incredibly popular and an easy way to try working as a driver. To get started, you need a four-door car, and a phone to download and use the appropriate app. Besides that, drivers for Uber and Lyft have to be at least 21 and licensed with no less than one year of experience on the road.
According to Forbes, [2] if you want an annual income of $50,000, you have to have an average of 60 rides per week working for Uber, or 84 trips per week working for Lyft. However, TheStreet reports [3] that Uber drivers average between $8.55 to $11.77 per hour with and Lyft isn't much different.
Deliver Food
Besides picking up passengers, you can pick up and deliver food through at least a few new apps such as Postmates or DoorDash. If you have a car (or a bike) and free time, you can visit local restaurants, pick up peoples takeout orders, and bring them to their doors. Both apps require you to have a valid driver's license, a drivable vehicle, and to pass a background check besides being over 18.
Drive a Truck
Driving a truck is still a good option if you want to make decent money. Indeed reports that the average truck driver in the United States earns $1.100 per week, and there are millions of people currently employed. [4] Of course, pay varies so that some companies will offer much more, or you can boost your salary by becoming self-employed.
That said, it's not easy becoming a truck driver in the US as it is signing up through an app like Uber. Your first step to driving a truck is to get a commercial driver's license through a driving school. Once you get a permit, you can either buy or lease your vehicle or use a company truck.
Drive a Bus
Becoming a bus driver may not be your first choice, but it can be a good driving job. On average, bus drivers earn $16.56 per hour, according to the Bureau of Labor Statistics, [5] but salaries are significantly higher in major cities.
Another option is driving a shuttle bus for an average pay of $12.30, reports PayScale. The advantage of driving a shuttle bus is that you don't always need a commercial driving license.
A driving job can be a gateway to a high-paying career or a way to boost your monthly budget. It's easy to get started in most cases, and there's room to advance. If you want to be a career driver, find a job that offers you valuable experience and work your way up from there. You can go online and start looking for a driving job today.
References
[1]https://www.rtsfinancial.com/articles/why-trucking-still-america-s-number-one-job
[2]https://www.forbes.com/sites/nextavenue/2017/04/23/11-things-to-know-before-becoming-an-uber-or-lyft-driver/#43e87a6c6579
[3]https://www.thestreet.com/personal-finance/education/how-much-do-uber-lyft-drivers-make-14804869
[4]https://www.indeed.com/salaries/Truck-Driver-Salaries
[5]https://www.bls.gov/ooh/transportation-and-material-moving/bus-drivers.htm
[6]https://www.payscale.com/research/US/Job=Shuttle_Driver/Hourly_Rate