Cryptocurrencies are rapidly gaining in traction and people are starting to ask how they can be used. Even for those who may be aware of cryptocurrencies at a general level, there still remains many unanswered questions about how they can be used or stored. To help clarify some of these questions, we've listed some of the most common ways to store Bitcoin, as well as how you can use them to pay for goods while traveling.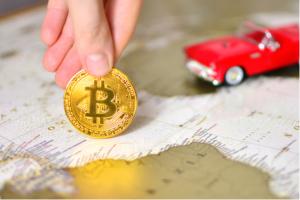 What are Cryptocurrencies? 
 In general, cryptocurrencies can be defined as a form of payment that can be exchanged for goods and services online. Cryptocurrencies utilize a technology called the blockchain. Blockchain is a devolved technology spread across several computers that keeps records of transactions[i].
Cryptocurrencies can be used to buy goods and services just like any other currencies. The difference is that cryptocurrencies are digital and use cryptography to control the creation of more coins, secure online transactions, and manage the transfer of coin ownership. Today's most common cryptocurrencies are Bitcoin, Ripple XRP, NEO, Litecoin, Ethereum, and IOTA.
Ways of Storing Cryptocurrencies
Similar to the way we store cash in a physical wallet, cryptocurrencies are also stored in a wallet – a digital wallet that can be web-based or hardware-based[ii]. The wallet can reside on a computer desktop, a mobile device, or kept secure through printing the access addresses and private keys on paper. The safety of these digital wallets is dependent on how the owner manages the wallet. Every wallet has private keys that the bitcoin owner uses to access the currency. The biggest risk in cryptocurrency security is losing the private key, which can be through theft, computer malfunctions, hacking, losing a PC where the wallet resides, or just misplacing the key. Below are some of the ways of storing cryptocurrencies:
1) Desktop wallet
Desktop wallets, or cold storage methods, are wallets that are not connected to the internet.
The advantages of a desktop wallet over online wallets are:
       

Less vulnerable to hacking

       

Reduced exposure of security keys online – Personal security keys are stored only on the private computer from which you access your wallet.
Nevertheless, desktop wallets are still susceptible to potential hacking as fraudsters can infect your machine with malware designed to expose keys and steal your currency.
2) Hardware wallet
This wallet is more secure than desktop wallets. These wallets consist of bits of external devices such as USB sticks, which can be carried around.
Benefits of hardware wallets include:
       

Complete anonymity of transactions

       

Data cannot be leaked – no linkage of personal information to the hardware.

       

Resilient to malware

       

A seed phrase can be used to recover funds in case you lose the wallet
3) Paper Wallet
This form of storage demands high levels of understanding of how digital currencies work. You can create a paper wallet online using a couple of websites. In addition, a more secure way would be creating the wallet offline.
Benefits of paper wallets include:
       

Easy to store – they do not take much space.

       

They offer true anonymity.
4) Physical coins
There is an upcoming trend whereby investors are allowed to buy physical coins. The coin bought will have a tamper-proof sticker that covers some amount of currency. However, buying coins will cost you more than the actual value you are buying due to manufacture and shipment cost.
How People Can Travel with Their Cryptocurrency and Use it to Pay for items
Crypto payments, particularly bitcoin cash, can make your travel life easier; it is a fast and cheap way to pay for anything. You can book flights, cars, hotels, or train tickets with BCH[iii].
A couple of travel sites, including Cheapair, Bitcoin.Travel, Destinia, Corporate Traveller, and Airtreks, now take coins, including BCH, for booking flights, car rentals, and hotels. If you wish to visit exotic places, Bookmauritiushotels.com is a website with the best prices for hotels in the island nation, and you can pay using BCH.
Once you reach your destination, you can quickly locate places where you can spend bitcoin cash using the app "Marco Coino," created by Bitcoin.com for both Android and IOS devices. An alternative platform that can show you locations that allow payment using BCH is Bitcoinmap.cash. It has both a mobile app and a web-based version.
You can also spend your bitcoin cash using debit cards like Bitpay's Visa card in the US or Fuzex in Europe and the Asia-Pacific region. In case you run out of cash while on your trip, you can access ATMs where you can top up your BCH wallet. The BCH Map will show you over 1800 machines and tellers worldwide that can sell you some BCH coins.
Benefits of traveling with Crypto vs. Regular Cash or Credit
The benefits of using bitcoins include[iv]:
       

International transactions are easier than with regular currencies.

       

Generally, lower transaction fees for international payments.

       

Anonymity and privacy relative to traditional currencies

       

Independence from political agents and creators

       

Peer-to-peer focus

       

Elimination of banking fees

       

Helps to avoid fraudulent activities

       

Secure – no incidences of pickpocketing
The Bottom Line
The era of cryptocurrencies, such as bitcoin, has just begun; in fact, bitcoin's existence has just hit 10 years. Bitcoin has overcome all obstacles that have emerged on the way, coming out stronger, a sign that Bitcoin and cryptocurrencies, in general, will be playing a significant role in the future of money.
This article discusses how you can store your cryptocurrency, use it while traveling, and the advantages of bitcoin instead of traditional currencies to convince you to take the leap. With some more research on bitcoin and cryptocurrencies in general, you will be ready to take the plunge.
References
[i] Royal, J., & Kevin Voigt Kevin Voigt is a personal finance writer at NerdWallet. He has covered financial issues for 20 years. (2019, June 18). What Is Cryptocurrency? Beginners Guide to Digital Cash. Retrieved September 04, 2020, from https://www.nerdwallet.com/blog/investing/cryptocurrency-7-things-to-know/
[ii] Reiff, N. (2020, August 28). What are the Safest Ways to Store Bitcoin? Retrieved September 04, 2020, from https://www.investopedia.com/news/bitcoin-safe-storage-cold-wallet/
[iii] Free Market Family: Goldbug Peter Schiff Asks the Bitcoin Community to Gift Crypto to His Son FEATURED | 7 days ago Lockdown Life & Darknets: BTC Still the DNM King. (2019, May 25). How to Travel the World With Bitcoin Cash: Featured Bitcoin News. Retrieved September 04, 2020, from https://news.bitcoin.com/how-to-travel-the-world-with-bitcoin-cash/
[iv] Brian_Martucci. (n.d.). What Is Bitcoin – History, How It Works, Pros & Cons. Retrieved September 04, 2020, from https://www.moneycrashers.com/bitcoin-history-how-it-works-pros-cons/