Some people are thinking of joining online school but not too sure if they have the necessary funds to complete education. We got the information. Initially, only students taking courses on campus were eligible for financial aid but just recently there has been a wave of online-only schools that have begun to accept government-funded student aid, otherwise known as FAFSA.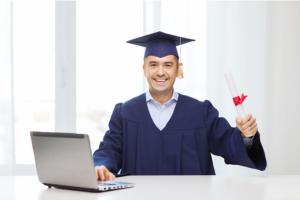 What is Financial Aid?
The U.S. Federal government gives FAFSA, lengthily known as the Free Application for Federal Student Aid, to help students benefit from financial aid while studying at colleges and universities[1]. To benefit from this type of aid, students need to fill out an application form, which determines their eligibility.
Students should complete a Student Aid Report, which includes an Expected Financial Contribution that outlines where they will direct the aid. Institutions will use the EFC report to evaluate the eligibility for financial aid. However, to receive aid every year, the student should maintain a satisfactory GPA and meet every semester's course requirements.
Students seeking federal student aid should fulfill some basic criteria. Among them, include;
Should have a high school diploma or similar degree

Prove the need for financial assistance

U.S. citizen with a social security number

Registered with selective service for males and aged 18 and 25
Students should re-apply for FAFSA every year if they need financial support. They should also note that every college has individual financial aid requirements and deadlines. As such, they should contact the intended college of study for details of their requirements and deadlines. FAFSA is also rewarded on a first-come, first-serve basis.
Types of Aids Given to Students
FAFSA is a broad term that entails the following available aids[2];
Federal student loans

Grants – this describes money given to students to help in their college expenses.

Scholarships – such as grants, they are not paid back.

Employment – provides on and off-campus job opportunities

Private student loans – used to cover high education fees for undergraduate and graduate programs. However, they have high-interest rates compared to federal student loans.
Online Colleges Accredited for FAFSA
Unlike traditional colleges, only a handful of online colleges accept FAFSA. Among them include[3];
1) Anna Maria College
Anna Maria College is a private catholic arts college situated in Paxton, Massachusetts. The New England Association of Schools and Colleges accredit the college, and students receive full-time access to tech support and guidance from devoted student services coordinators. Some of the greatest programs to study in this college include;
Masters of health emergency management

Masters of homeland security

Masters of criminal justice

Bachelors of Science in nursing

Bachelors of Science in fire science
2) Benedictine University
This is yet another private catholic sponsored university located in Lisle, Illinois. The college is accredited by the Higher Learning Commission and gives online courses that benefit students looking for the opportunities to complete their bachelor's or master's programs. Some prominent courses given by the university include;
Masters of public health

Masters of Science in accountancy

Masters of business administration

Masters of Science in nursing
3) Seton Hall University
Accredited by the Middle states commission on higher education, Seton Hall University is one of the countries' top catholic universities. The campus gives more than 90 nationally recognized programs with excellent academic and educational value. A wide range of student services, including financial aid, library resources, career services, campus ministry, and online registration, supports online learning programs in Seton Hall University. Instructors who teach online receive additional training as well to better their educational experience. Notable courses at the university include;
Masters of Science in nursing

Masters of Science in accounting

Masters in business administration

Masters of public administration in non-profit management
4) St. John's University
St. Johns is a Roman private university located in New York. The Middle states commission on Higher education accredits the campus. Full-time online bachelor's students receive an IBM laptop, enabling them to access various student services. Among the prominent courses in the campus include;
Ph.D. in Literacy

Masters of public health

Masters of Science in library and information science

 
 Other online colleges that accept FAFSA include;
University of Florida

University of Phoenix

Aspen University

Colorado Technical University

Baker College

Grand Canyon University

Penn State World Campus

Capella University

Walsh University

Widener University

Utica College and many more
The Bottom Line
Studying online eliminates the need to worry about campus expenses and expensive rent for example, in traditional colleges. However, the student will still need to pay for books, tuition, and other supplies. While a FAFSA application may take some time to complete, it provides valuable scholarships and grants to cover basic education expenses. As mentioned above, applying for such financial aid is quite simple[4]. Begin by finding out if they are eligible, determine the online enrolment status, search the FAFSA school code, and submit the application. Before making the final decision, it is always recommended to explore all the academic options. The future awaits! 
References
[1] Best_Schools. "Financial Aid for Online College: Everything You Need to Know and Do." TheBestSchools.org. thebestschools.org, March 23, 2020. https://thebestschools.org/financial-aid/online-college-students/.
[2] Federal Student Aid. Accessed July 24, 2020. https://studentaid.gov/understand-aid/types.
[3] "Online Colleges That Accept FAFSA." eLearners.com, July 16, 2018. https://www.elearners.com/education-resources/strategies-for-online-students/online-colleges-accept-fafsa/.
[4] Pratini, Napala. "How to Apply for FAFSA 2020-2021: Deadlines, Tips & FAQs." Credible. Credible, July 15, 2020. https://www.credible.com/blog/student-loans/applying-for-fafsa/.