Selfies are so in right now. Instagram, Snapchat, and other fun photo-sharing apps and platforms are now just a click away on almost everyone's cell phone, making it easy to take pictures anywhere, anytime.  The flip-side is that, with so many pictures being published, every tiny detail gets highlighted, and becomes open to everyone else's scrutiny. 
Thankfully, photo-editing platforms can help you retouch flaws and bring out the best of every new picture. For those of us who just don't have the time or skill to edit a photo on our own (I know I'm one of them!), seeking professional help is nothing to be ashamed of. In fact, it's a new service that is highly trending.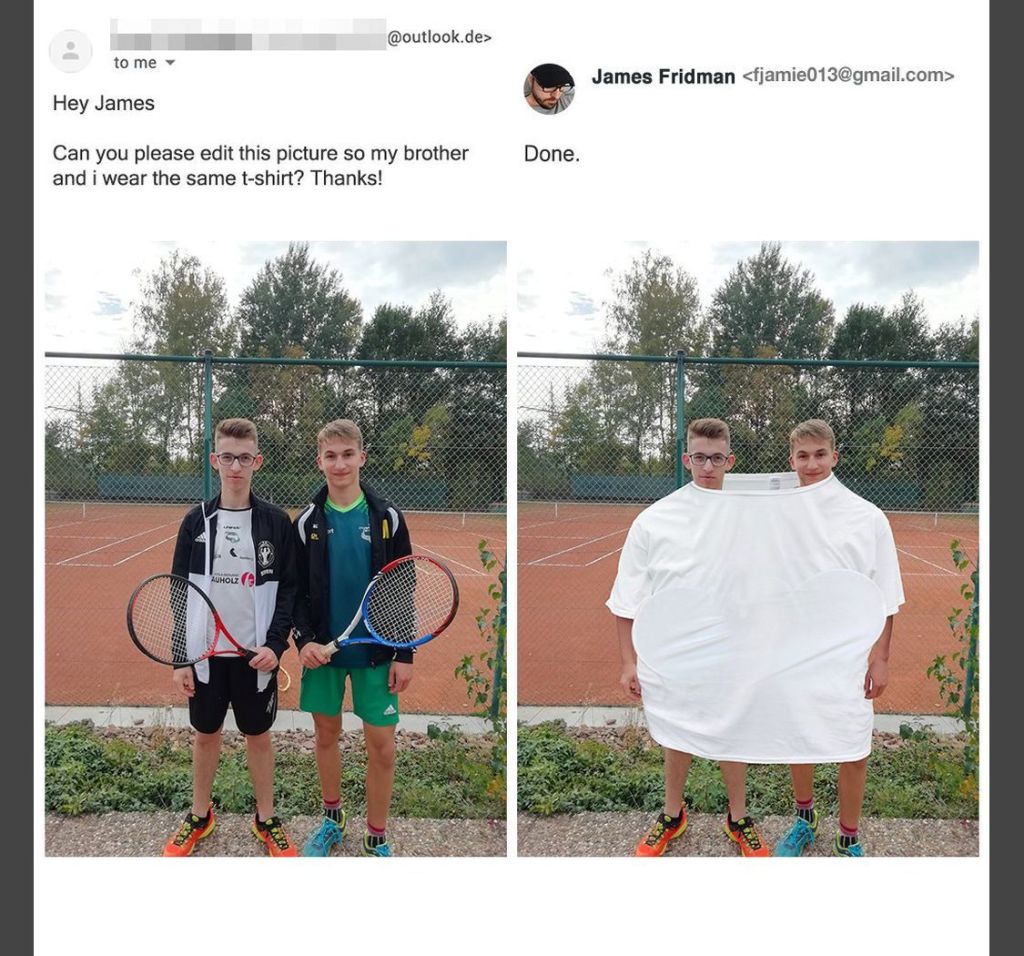 Photoshop experts can do virtually anything with your photo, from background manipulation (place yourself on a warm sunny beach instead of your dirty room!) to creating pieces of art out of a regular snap. They can also edit your ex-boyfriend out of your favorite photos, cover up a nasty pimple, or add in a missing person to your annual family photo.
There are so many fun things you can do with photoshop editing besides fix your own photos. Some people hire photoshop editors to troll people and photoshop their pictures in a way they never imagined. Just make sure you are very careful to phrase your wish as specifically as possible because those magic wish-granting funny photoshop genies will give you exactly what you asked for. If you say the wrong thing, you might just end up getting hilarious accidental photoshop edits like these unlucky (or lucky?) clients:
Crooked Bow Tie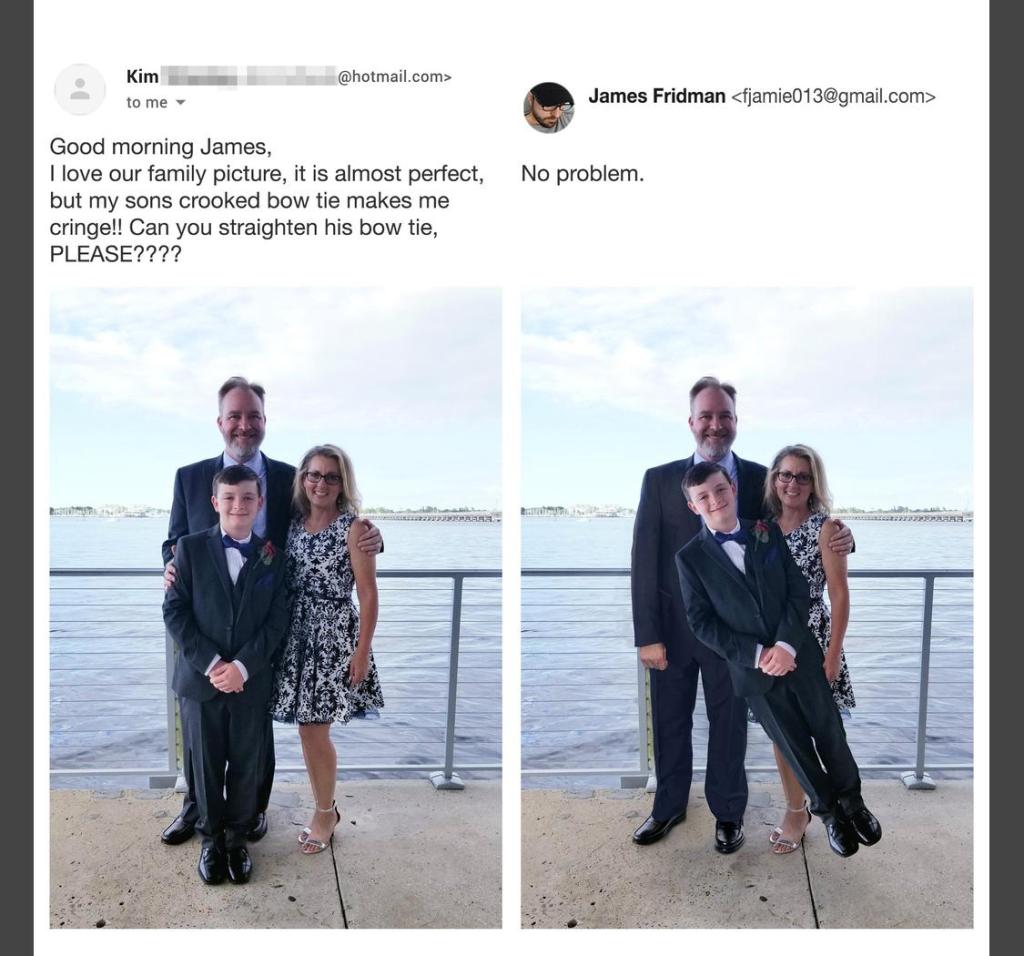 James Fridman is a photoshop expert who is famous for taking clients' requests a little bit too literally, just to make fun of all of the little things that people decide are ruining their family photo. When the parents of this boy asked for his crooked bow tight to be straightened in the photo, James straightened the tie… but turned the boy into a living leaning tower of Pisa. 
Not Good, She's "Grate"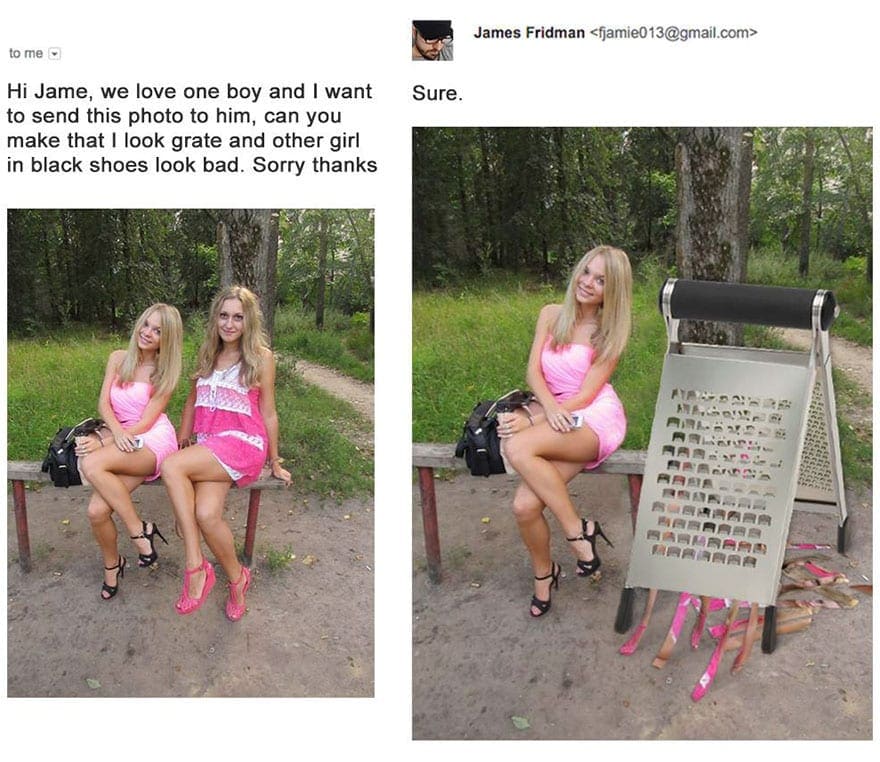 There's nothing wrong with a little friendly competition, but asking to make someone look bad using Photoshop is just plain rude. In this case, the girl requested James to make her look "grate" and the other girl look bad. So… he did exactly what she asked…
A Night at The Museum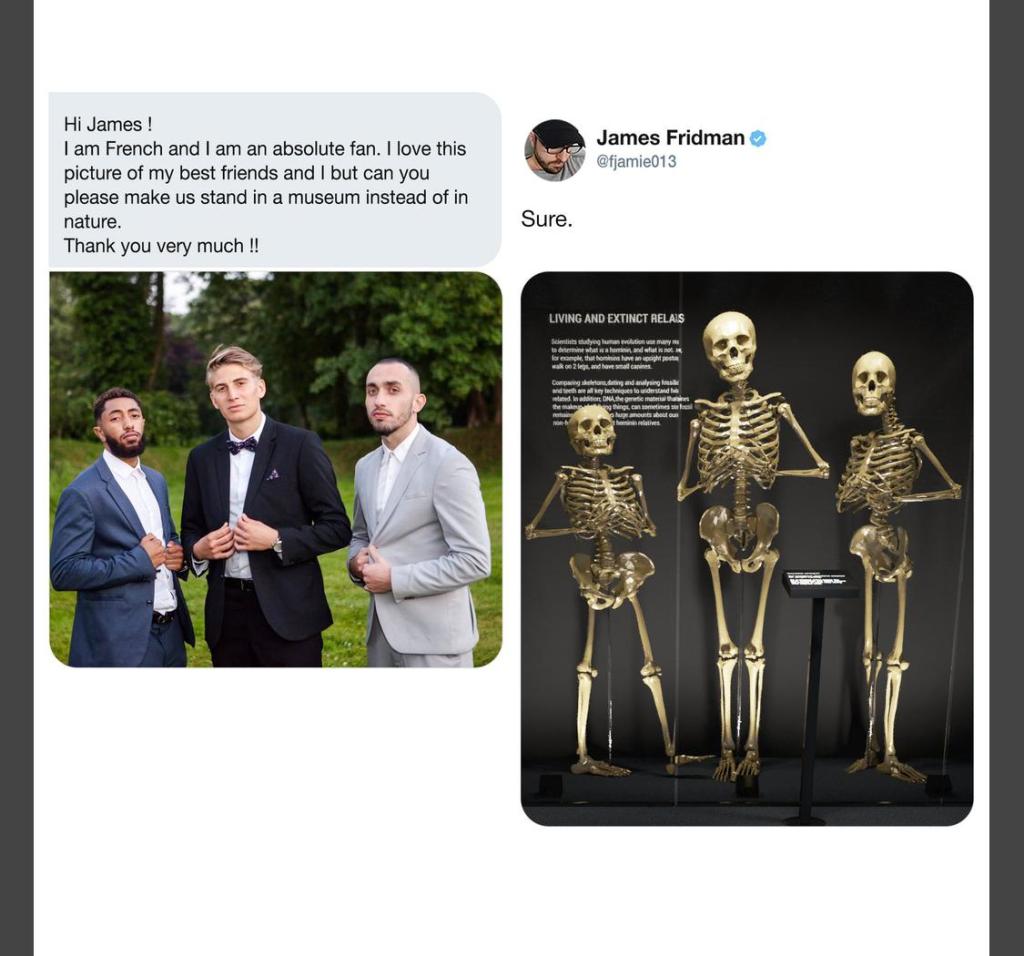 Here's a rare instance of someone actually getting the photoshop work they specifically asked for. This french guy wanted his picture in a museum but the lack of explanation resulted in this hilarious photoshop. 
2 White Hats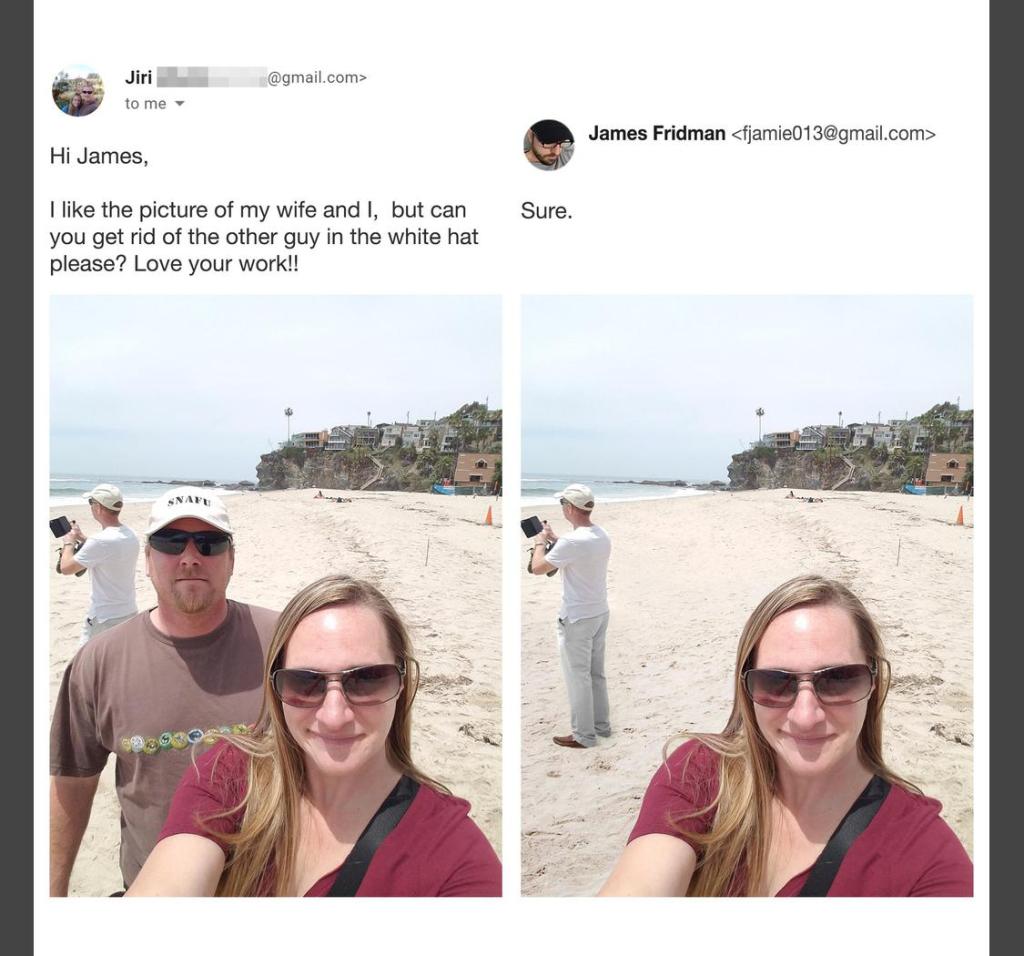 And here is the most hilarious one. The couple wanted a flawless romantic holiday picture but didn't realize that there were two dudes in white hats in the picture. For a little bit of fun, James decided to remove the wrong guy in the white hat.
Same Shirt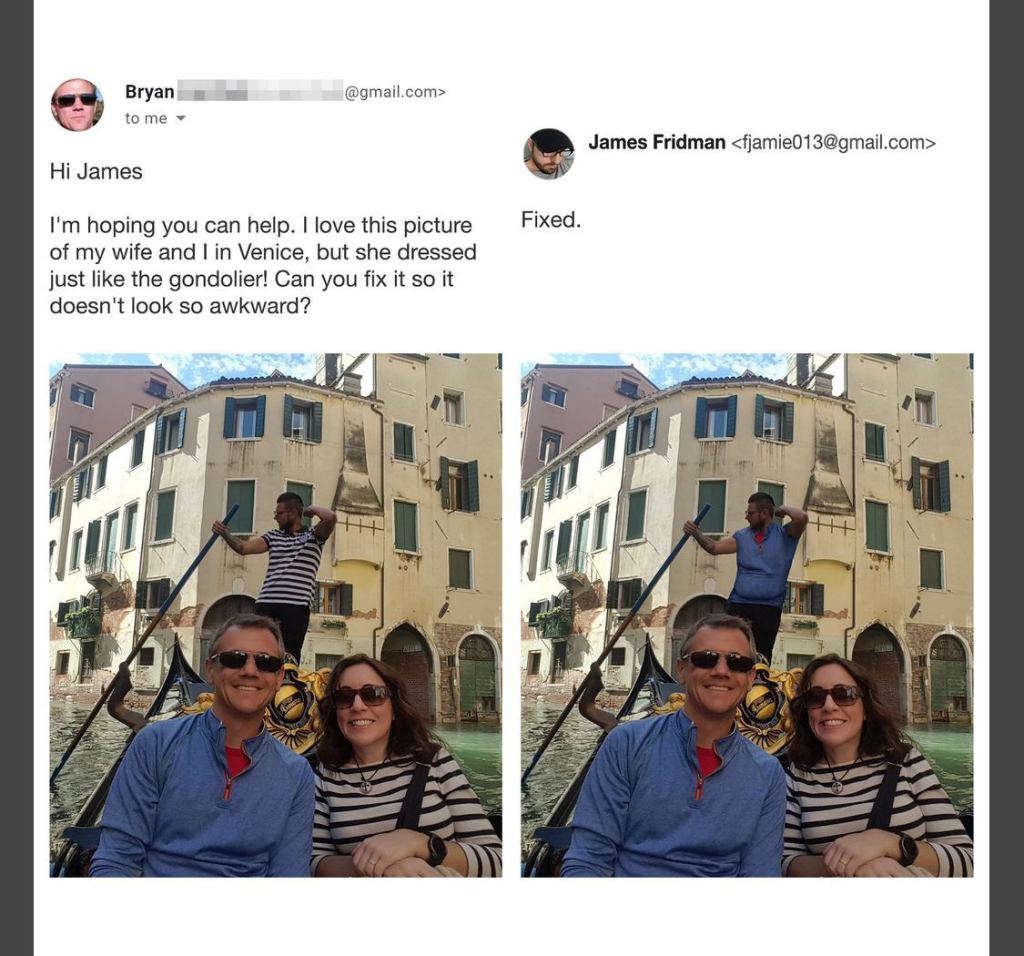 In this picture the lady and the gondolier were wearing the same shirt, so her husband asked James to change it. With a master move of intentional misinterpretation, he changed the shirt of the gondolier to the one that the guy was wearing.
Wings of a Chicken?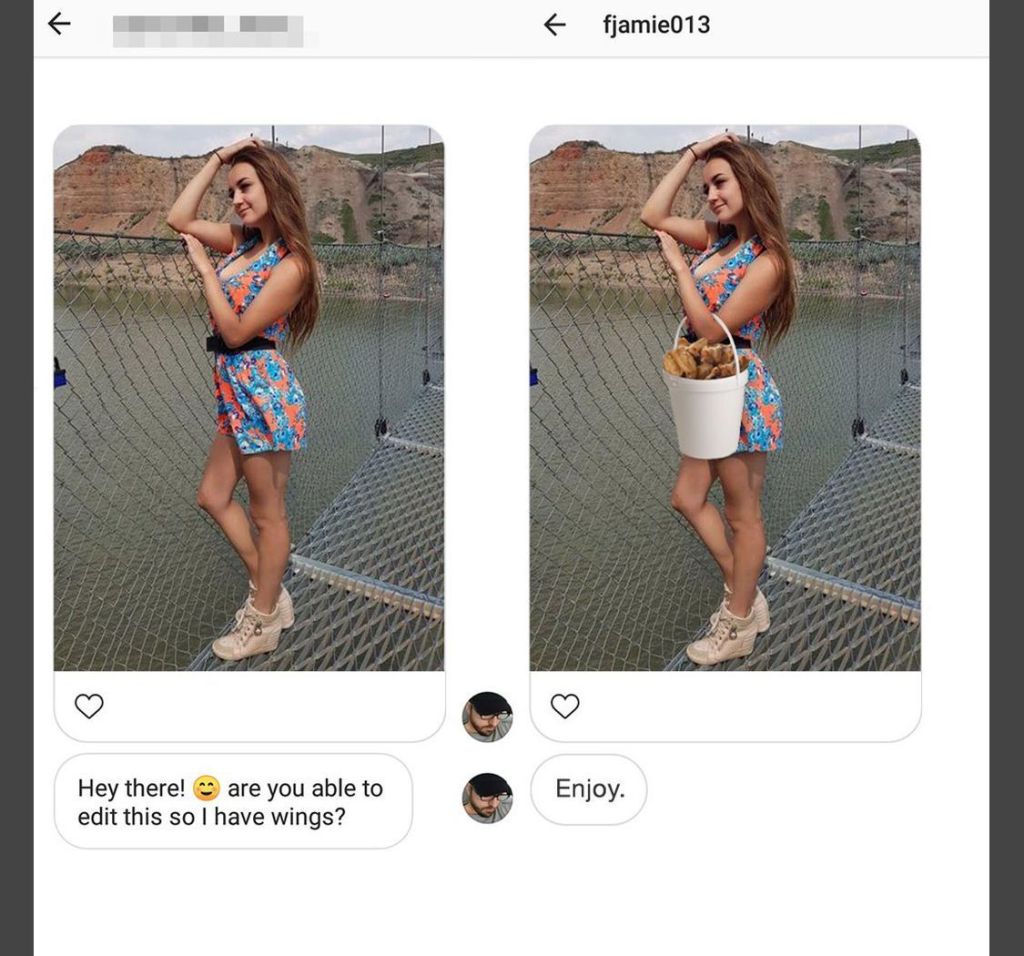 The picture looks pretty perfect before this young lady asked for a little Photoshop tweak. She's centered in the frame, the backdrop is pretty nice, and she's got the start of a smile spreading across her face, what more could you ask for?
Well, a snack might be nice. Next time, she should specify the type of wings.
Took a Shot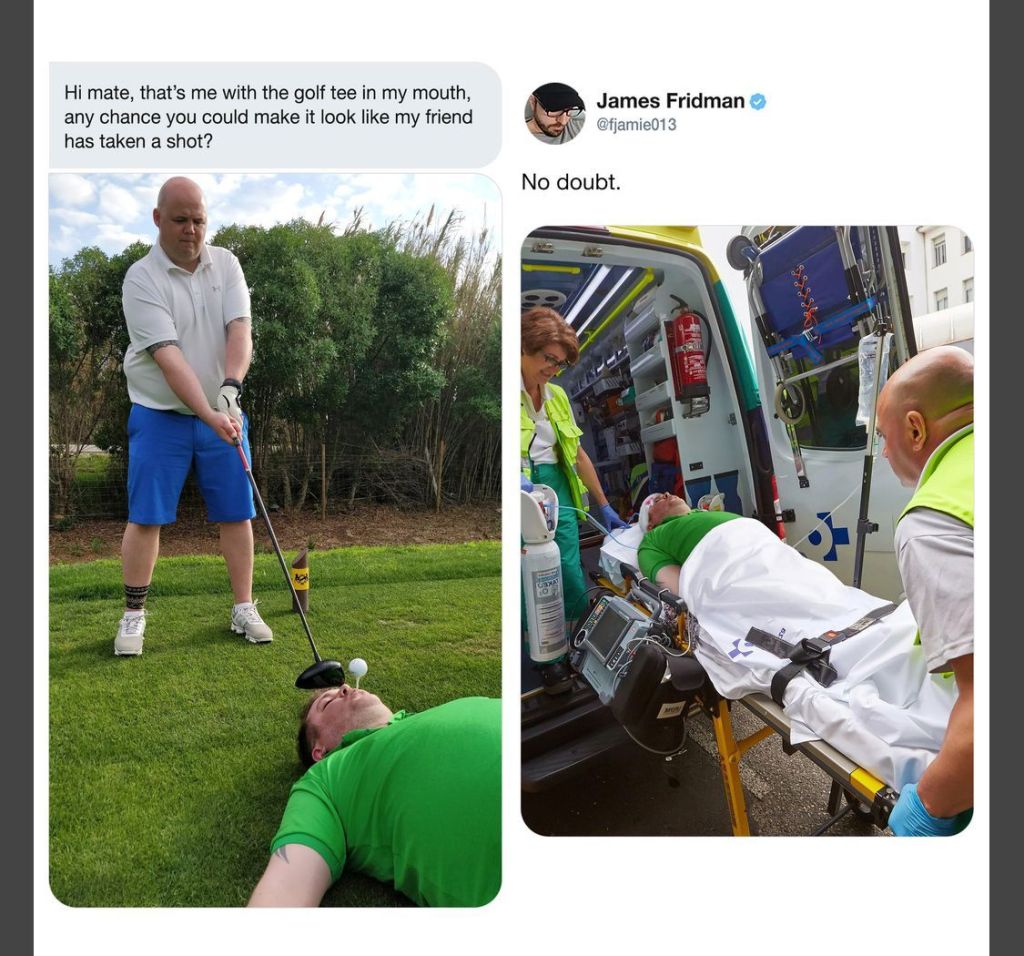 Becoming the tee for your friend is not a good decision. So James artistically approaches the realistic output of this idea. You can get hit somewhere else and end up on a stretcher being loaded onto an ambulance.
Belt Buckle Big Enough?
In this case, the guy has a perfect size belt buckle yet he asked for it to be even bigger. So now it's big enough that both guys can hold it. The motive was unclear, but again, you better choose your words carefully when asking for a photoshop.
Size Matters
The girl wanted to make her boyfriend's face smaller. James decided to have some fun.
In the Tree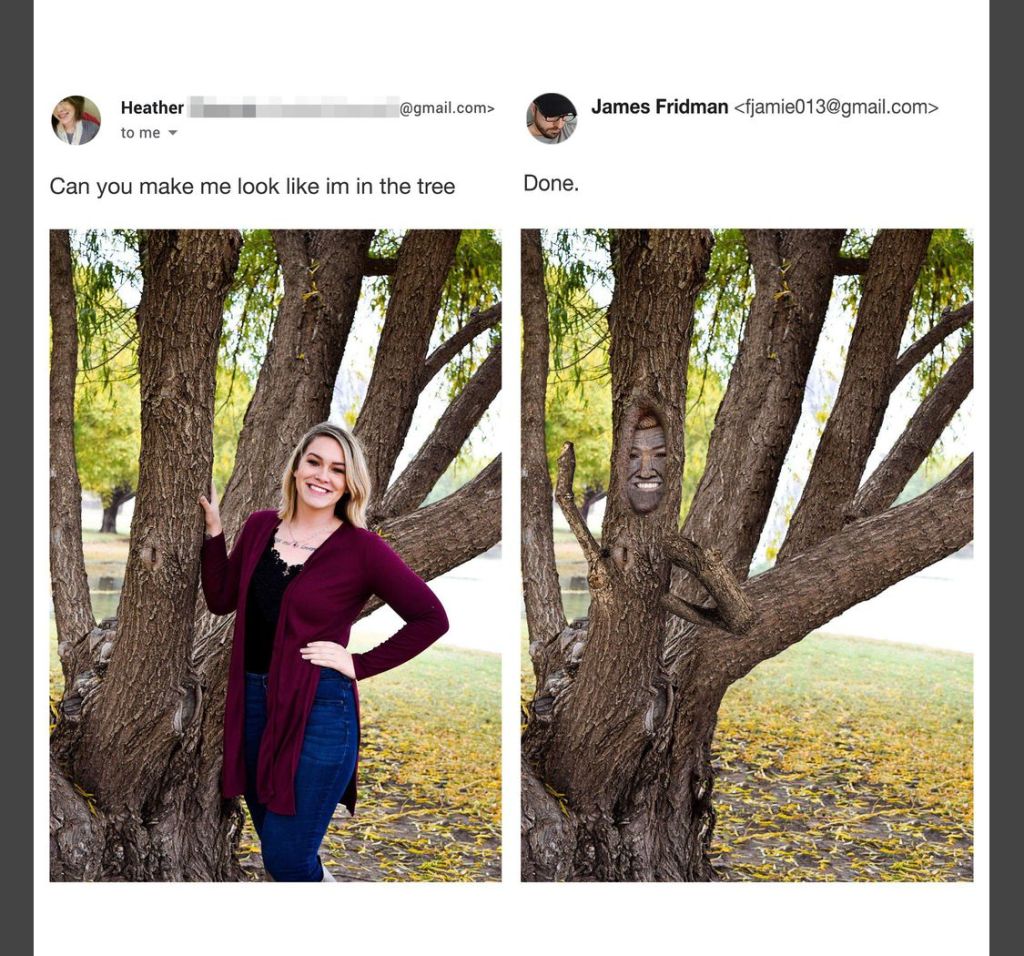 It happens a lot of times with non-native English speakers, the wrong or no use of preposition leads to the incomplete meaning of a concept.
In this case, the women should have climbed the tree to get her picture taken rather than ask James to do it. So James did exactly the same, made it look like she is in the tree.
Eiffel Tower Tango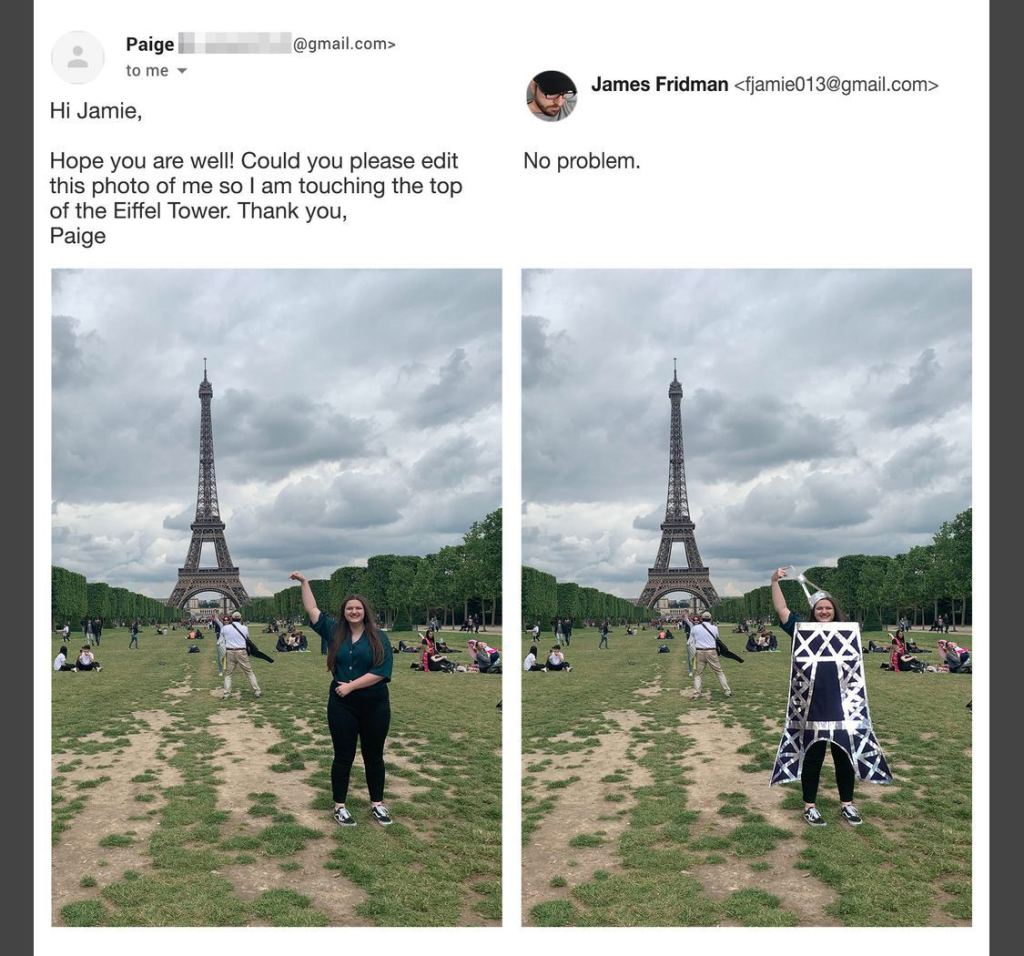 All over the world people come and visit the iconic Eiffel Tower. Tourists take pictures and snapshots in front of the Eiffel Tower and everyone wants to get their picture taken where they appear to be touching the top of the tower. The lady wanted the same and the results she got were just hilarious.
Wedding Photo Fail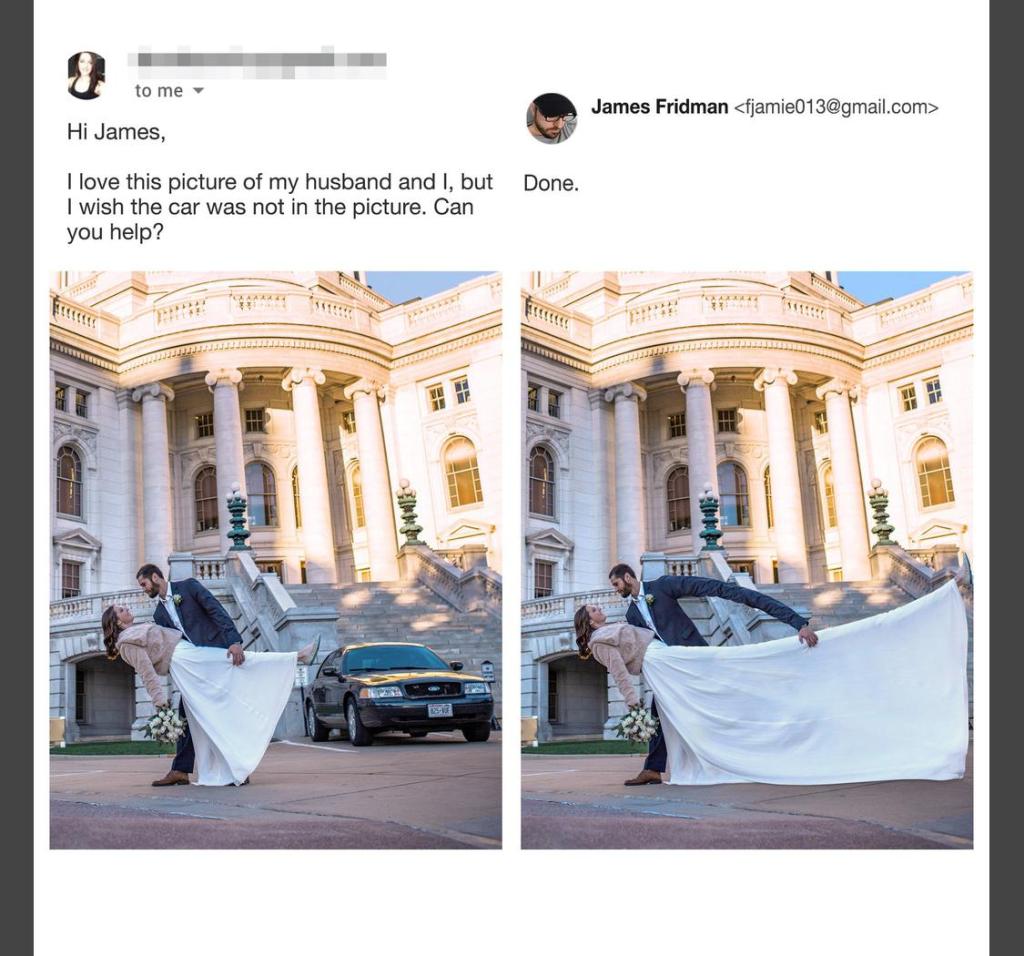 So, in this case, James decided to make their wish come true by covering the car with the bride's dress. The way that the arm of the guy has been extended to hold the girl's leg is just amazing. The bride should be happy about getting a lot more wedding dress than she paid for.
Broom Broom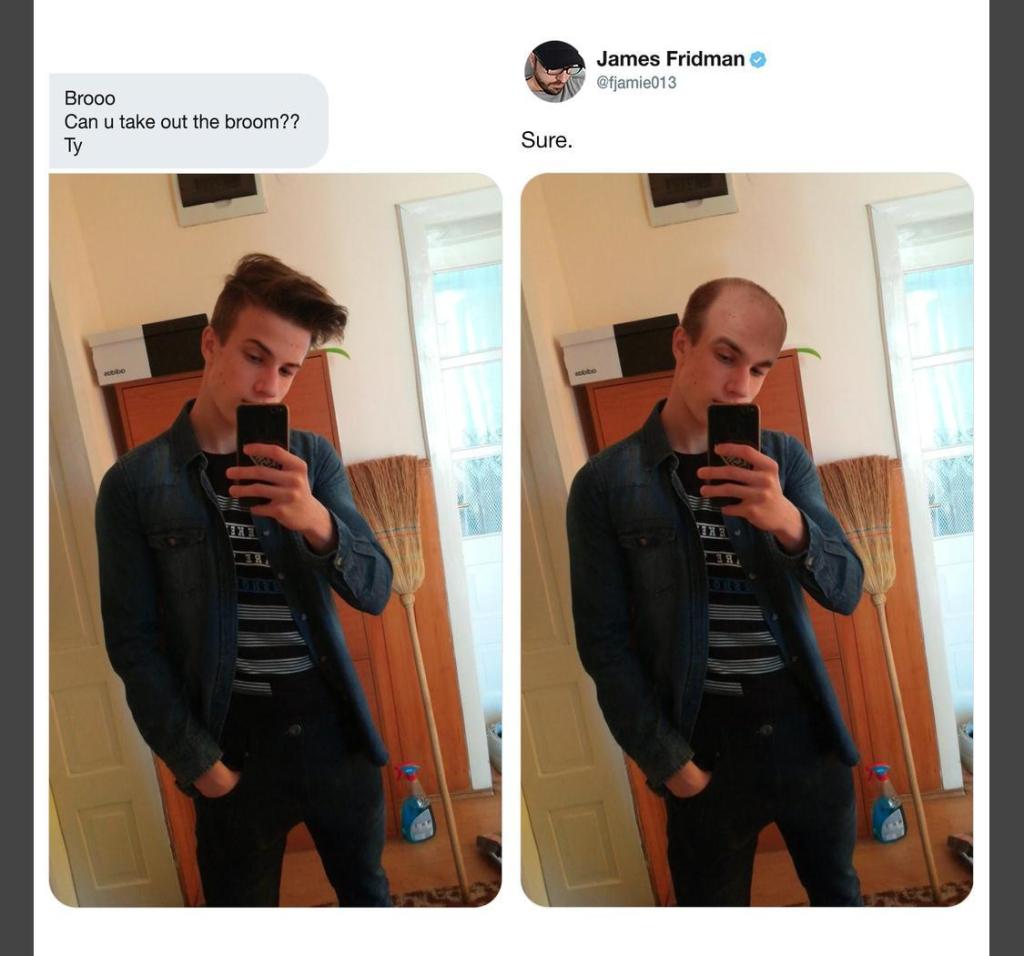 People sometimes try to attract others by becoming over fashionable, sometimes experimenting with their hair. In this picture, the boy's haircut looks a bit like a broom so James decided to remove it instead of the actual broom in the background.
Same Height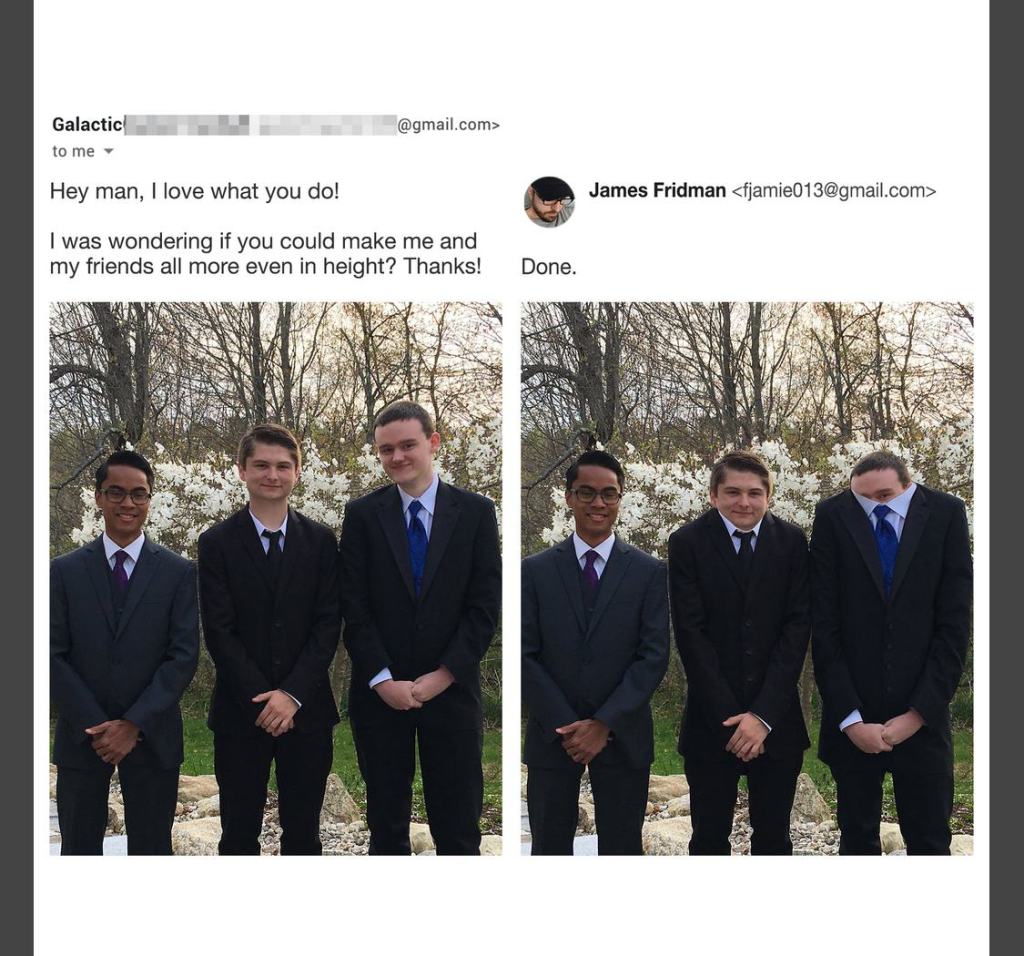 It is more often a problem with group pictures, you have some of your friends with short height and others with normal height. This guy clearly wanted the same height aligned group photo and the results are hilarious.
Wrong Side Of The Bench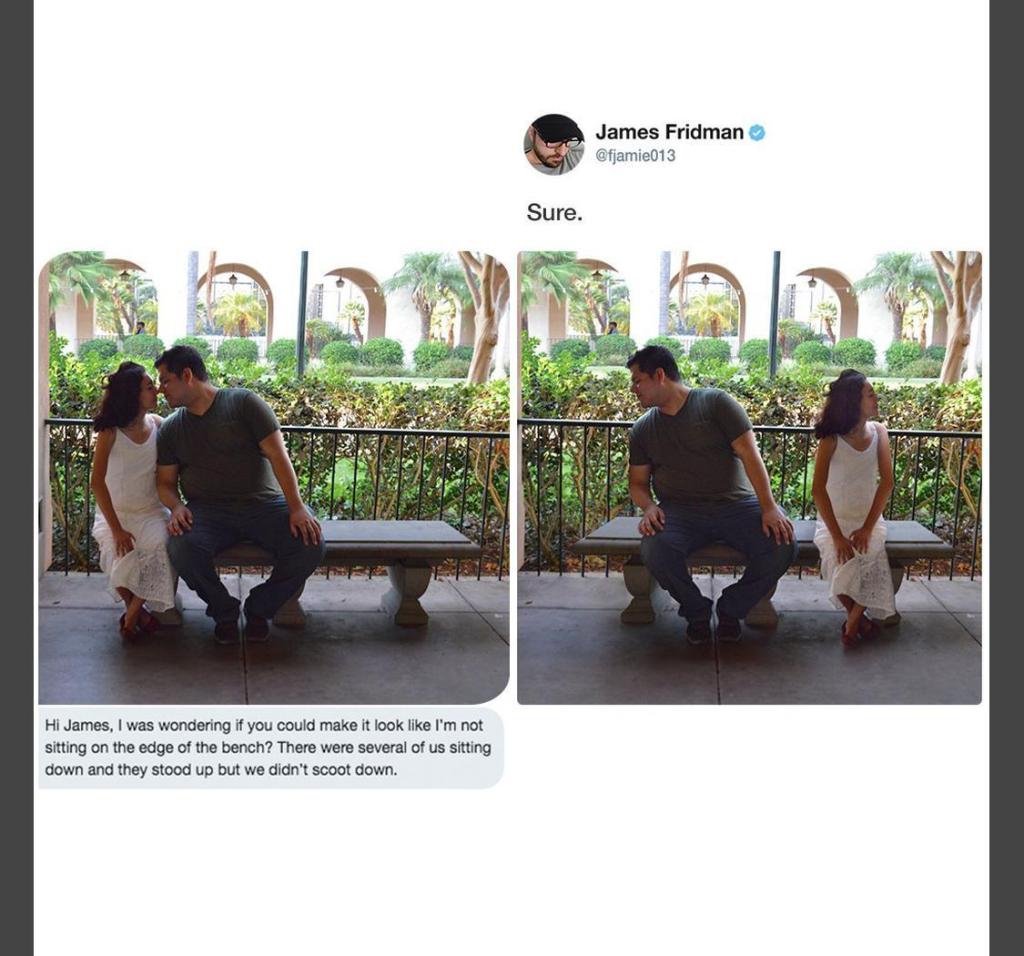 James used his signature Photoshop skills to literally accomplish this woman's request to edit the shot and place her and her boyfriend further down the bench. Well, she should have been a little more specific. No longer a couple about to kiss, these two might as well be strangers, as they look off in opposite directions. But hey, at least the bench is being used to its full seating potential, right? And isn't that what she wanted after all?
Those Feet!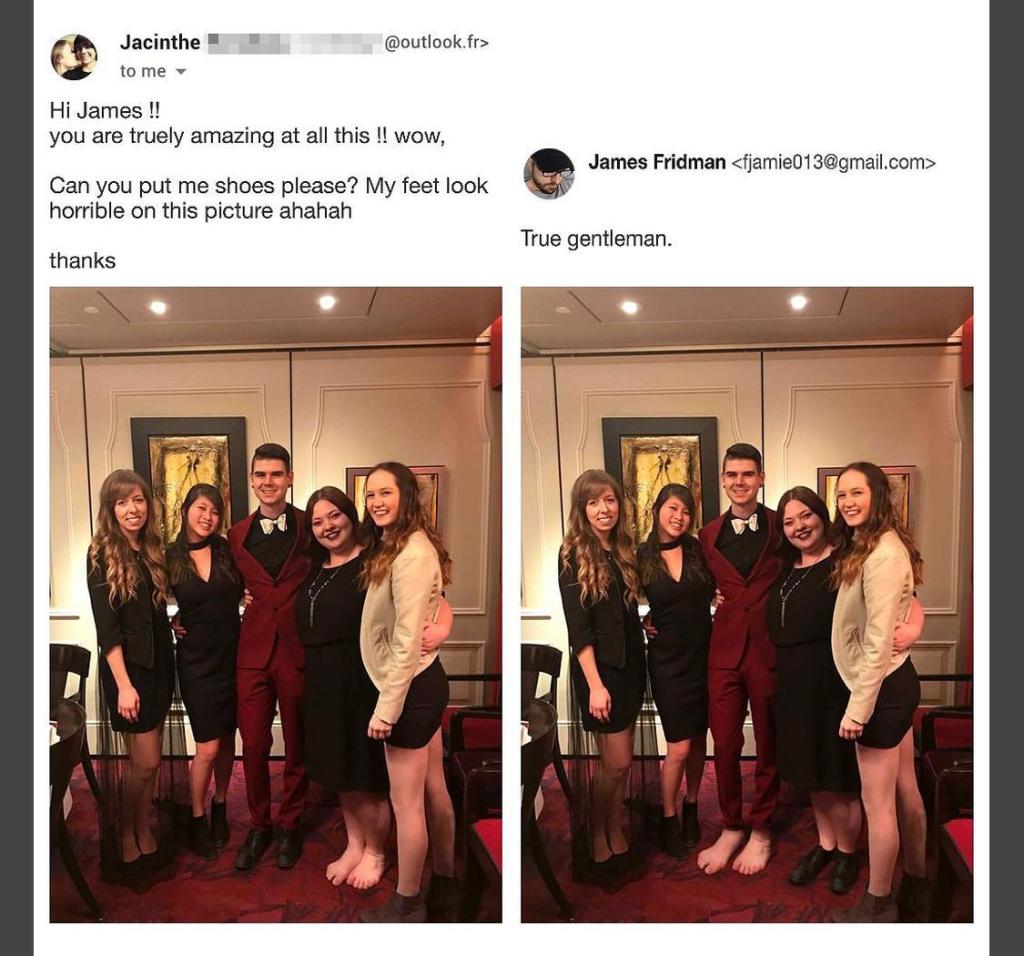 The guy in the centre is a true gentleman since he has given up his shoes for the girl on his left. The guy feet do look weird and the girl was right to have them photoshopped.
The Disappearing Pocket
It happens sometimes when you put your phone in front of your jeans pocket. The guy's phone was really visible through his pocket and thankfully, James has just the skills to do the job. James decided to remove the bulge altogether. He removed the pocket from the pants. Here's to hoping that he doesn't mind rocking the ripped jeans look though.
Forgetting Glasses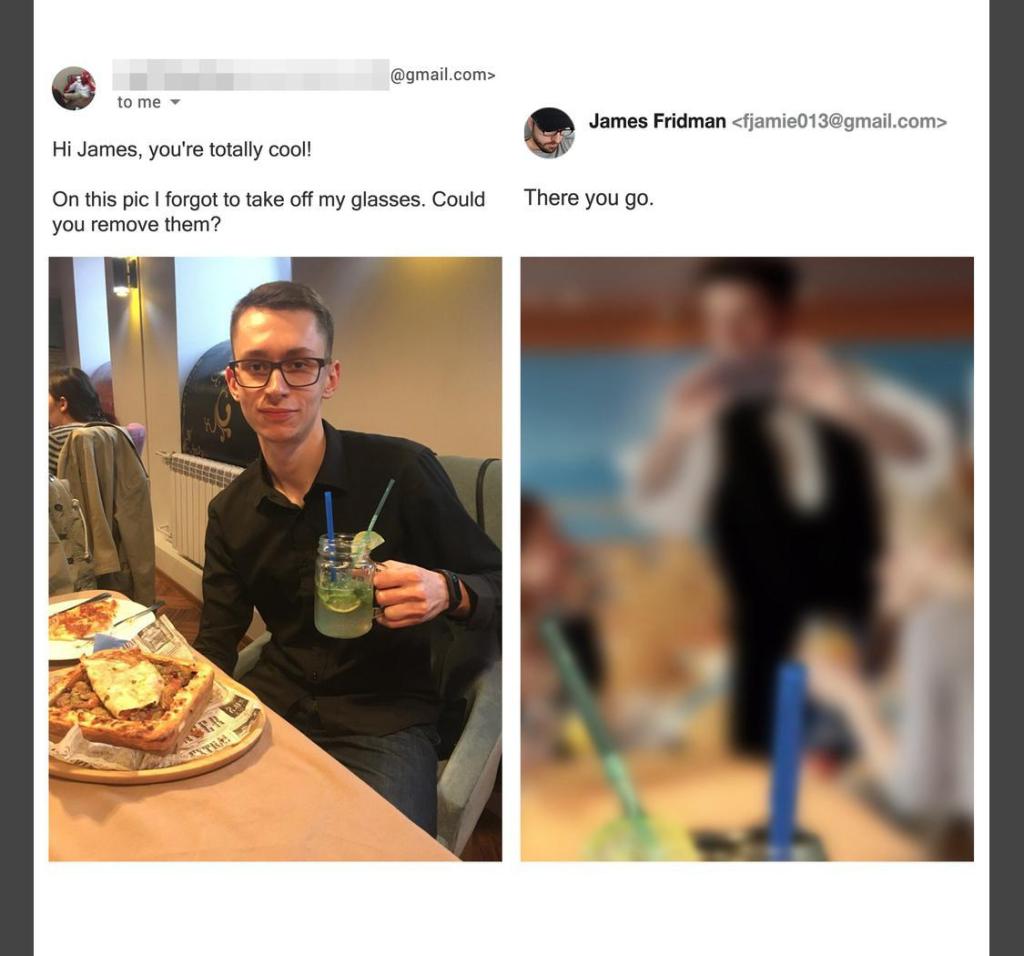 In this case, James decided to send a message in a very interesting manner. He changed the perspective of the picture. To give him an insight into the real world without glasses James added quite a lot of blur to the picture.
Wearing The Same Shirt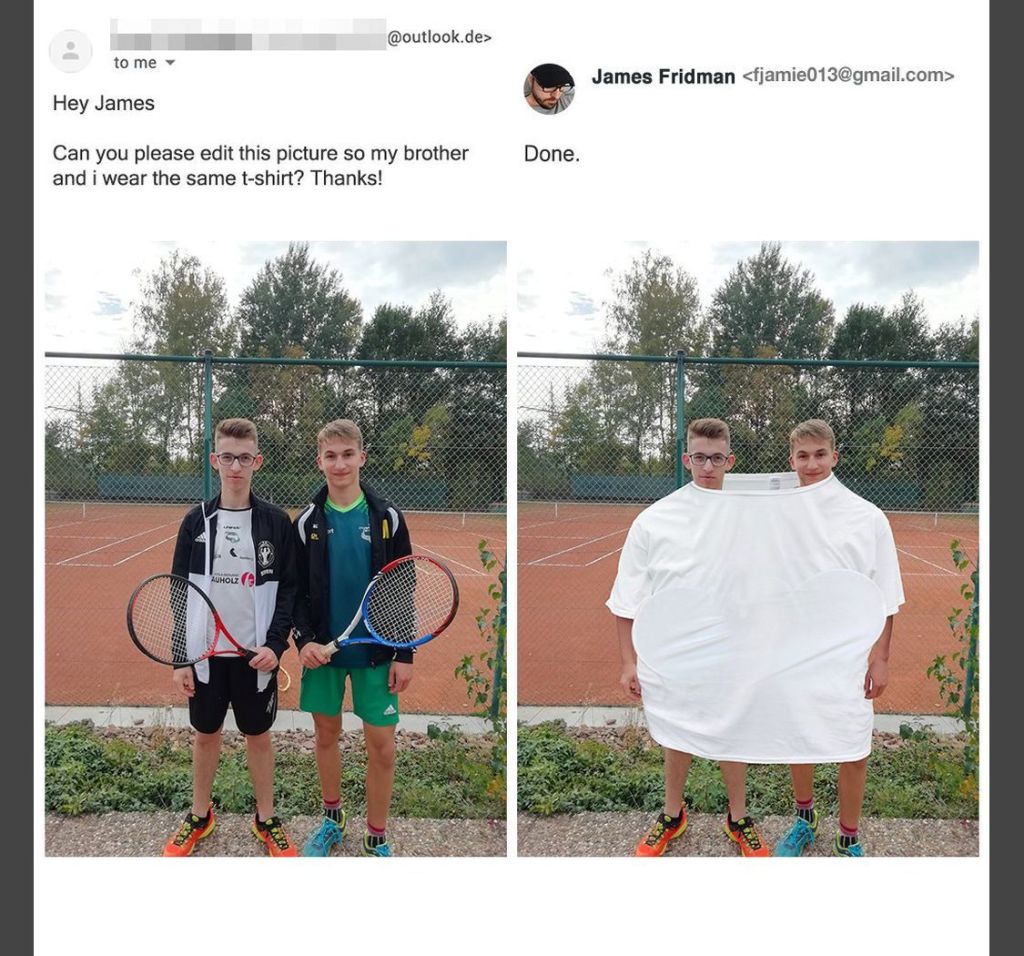 These brothers wanted to get a picture wearing the same shirt so James decided to put them together in one single shirt.
The Importance Of Seatbelts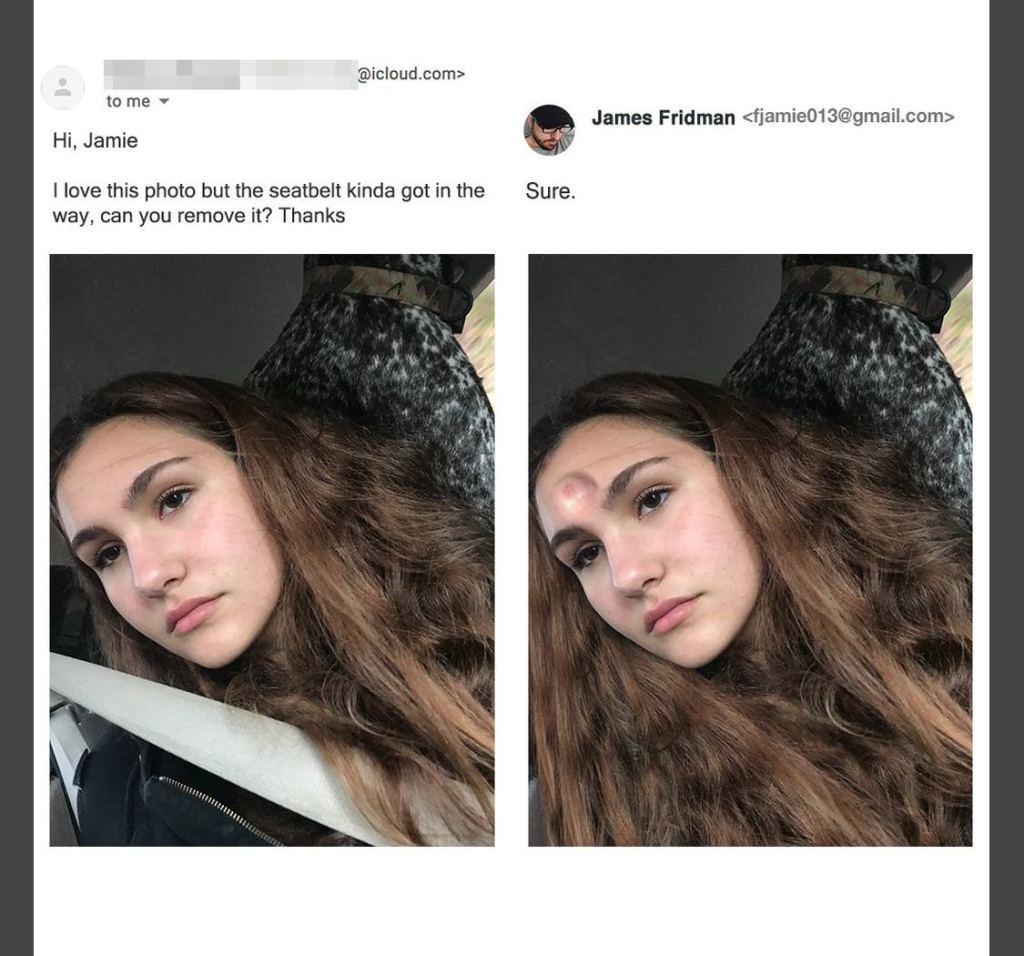 Everyone knows the importance of seat belts. However, this girl was adamant about not having a seat belt in her photo. So she asked James to make some small edits to the picture. James decided to give her a taste of the consequences as well.