Applying makeup and beauty products every morning can be extremely time-consuming. This is especially true when it comes to getting those perfectly beautiful eyelashes. Fortunately, there is a time-saving alternative that's all the buzz right now: eyelash extensions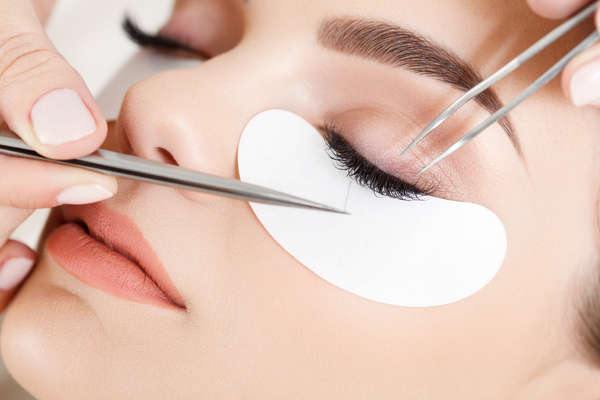 What are Eyelash Extensions?
Eyelash extensions are a semi-permanent solution for making eyelashes look made up. Unlike fake lashes, they are professionally applied, one on each natural lash, with a semi-permanent glue to hold them in place. Eye extensions extend, darken, and add volume. They look like natural eyelashes, but better.
When correctly installed by a professional, they are the safest way to enhance the look of natural lashes[ii]. They are designed to remain intact for the natural lashes' average growth cycle, which usually lasts for six weeks to two months[iii].
Eyelash extensions are made from a variety of material types including synthetics like faux mink and natural materials like silk and mink. Eyelash extensions should be attached with waterproof, non-irritating, or surgical glue that can deliberately withstand oil and sweat. However, if misapplied or the wrong adhesive is selected, they can cause infection, discomfort, or even permanent lash loss.
Eyelash Extension Tips and Tricks
Applying eyelash extensions can be a nightmare. You can be getting ready for a big night, then the strip lash refuses to stick down and keeps pinging up in the edges. Annoying, right? Unfortunately, eyelashes aren't one size that you can pick and go. Many factors come into play when applying them. The eye shape, how to remove them from the box and many other options are among things to be considered.
Here are 8 of the most useful tips and tricks to successfully apply the most beautiful eyelash extensions.
1) The close-set/wide-set test
Using a pencil or makeup brush, look into the mirror and place it from the eye's inner corner to the outside edge. This helps to measure the eye. In essence, you should fit the width of one of your eyes between the two eyes perfectly.
When there is an overlap, or there is less than one eye width of spacing, it means you have close-set eyes. You might want to create the illusion of drawing them apart by using longer lashes at the outer corners. If space is more significant than one eye width, then that means you have wide-set eyes. It would be best if you emphasized the center and inner corner.
2) Removing the lashes from the box 
This is the most crucial part. Hold the lash extension packet under your nose with the lashes facing outwards. This will identify which is the left and right extension as they are not marked. Peel them from the outer edge and not the inner edge as you can always trim the outer edge if it bends[iv].  
Advertisement
3) Measuring the lashes
Rest the strip lash along the lash line to see if it fits. The strip usually starts where the natural lash begins, and if it starts too close to the inner corner, it can irritate.
4) Trimming the lashes
Trim the lashes from the outside edge and cut them at the vein. Do not cut through the lashes. If you cut through them, you can chop half the other lashes that you wanted to use.
5) Preventing lash pop-up 
Sometimes, lash extensions flatten when taken out of the box and pop at the inner or outer corners. To avoid irritation, roll the lashes around your finger, use a makeup brush or cotton bud, and leave for a minute. This will make them stay in shape. 
6) Applying the Glue 
Place a thin layer of glue straight from the applicator along the lash vein from either corner. Wait a few seconds before the application. For long-lasting applications, use the double-adhesive technique to apply the glue to both the extension and the natural lash. 
Advertisement
7) Where to apply the lashes 
Always place them where the natural lashes begin. Look down and press the strip lash against the lash line in both edges and the center. 
8) Bonding the lashes 
Using mascara allows you to pinch and push the lashes together. Squeeze the mascara strip down on the natural lashes to avoid having space between. Use eyelash tweezers or your fingertips. 
Conclusion  
It seems like a lot of work applying eyelash extensions, but once you have mastered these simple hacks, it gets a lot easier. You will no doubt be eager to put them on every day once you see how they can accessorize your look. Always do your research before purchasing and be on the lookout for online scams.
Advertisement
 References
[i] Smartstyletoday.Com, 2020. https://smartstyletoday.com/best-eyelash-extensions/.
[ii] "Eyelash Extensions Pros And Cons: What To Know Before You Get Them". Healthline, 2020. https://www.healthline.com/health/eye-health/eyelash-extensions-pros-and-cons.
[iii] "Every Question You've Ever Had About Lash Extensions, Answered". Byrdie, 2020. https://www.byrdie.com/lash-extension-tips.
[iv] "How To Apply False Eyelashes Like A Pro". Cosmopolitan, 2020 https://www.cosmopolitan.com/uk/beauty-hair/how-to/a35697/apply-false-eyelashes/.