The world of stocks and trading is a great career choice for some people. However, becoming a day trader isn't an easy task. It takes time to understand how the market works along with finding your strategy. But your dedication, time and effort to trading can make a huge difference. So are you ready to get started? You're in the right place.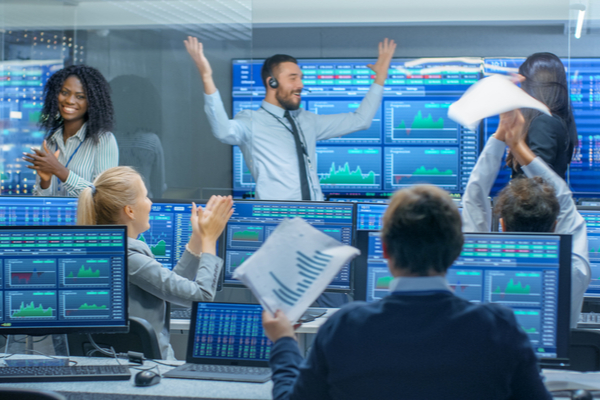 What is Day Trading? 
Day trading is actually buying and selling assets within a day in short order. With more transactions, traders can generate more commissions. Day traders usually aim to earn short-term profits. [1] There are several different markets for traders including stocks and forex (foreign exchange). 
People are interested in day trading for many reasons for example,  you can trade from anywhere with a good internet connection. Moreover, you don't need a degree to become a good trader. All you need is knowledge and tricks with a perfect strategic plan. 
What Makes A Successful Day Trader?
Without further ado let's directly jump into the tips that will help you boost your trading skills.
The initial step to becoming a successful day trader is self-examination. Before jumping into a new business you must know your capabilities. Question yourself: am I aware of basic mathematical analysis? Do I have financial knowledge? Will I be able to take risks or give tests enough time? If you are ready to suffer losses to ultimately achieve better returns, then this can be the first step to your success. 
Know the type of trader you want to be
In order to become a successful day trader, you need to decide what type of trader you want to be. There are different options such as flow traders, proprietary traders and sales traders. [2]
Understand Markets and Securities
The markets change every time. A slight fluctuation can cost you a major loss. So, as a day trader, you should have knowledge about market functions. You need to know tiny details like trading hours to margin requirements.[3]
Different types of trading methods are used for stocks, options, mutual funds, futures, and ETFs, and you need to understand each one in order to know which securities you should be trading. 
Save money for Investments 
One crucial step to becoming a day trader is to learn about cash management and trading stocks. Saving some cash for your training can be a great help. You may also need cash for your trading account i.e.; around $5,000.
Learn from a Successful Trader
A professional day trader can boost your confidence. Find a successful trader with a good record of making money by day trading. You can start with Warrior Trading, StockTwits or eToro.
As a beginner, you must have at least two established trade strategies. In day trading even a consistent money-making strategy can fail at any time. Take a close look at the effectiveness of a strategy and make changes as needed. Selecting the right trading strategies with proper execution is the key to succeed in the market. 
Practice Trading on a stimulator
Trading on a stimulator helps to prepare you for real-world trading. Don't try to apply your newly learned trading skills in real-money trading scenarios. 
It is always wise to set up an account on a trading simulator before you start trading with real money. The simulator reproduces the same experience provided by real market conditions.[4]
Start Live Trading With Small Size Investments
Starting with a small investment is an effective means of practicing risk management when you start trading. It will give you a chance to watch how the market fluctuates throughout several sessions. While you may not make a lot of money as a beginner, you will not be exposed to such high risks as with day trading.
Brokerage Accounts
Brokerage accounts place trades on behalf of the customer. It is actually an arrangement where an investor deposits money with a licensed brokerage firm. [5]There are several different brokerage accounts;
Cash accounts

Margin accounts

IRAs and other retirement accounts
If you open a margin account, you must also open a cash account. Retirement accounts have more restrictions, so you may also need to open a separate account for retirement savings.
Final Thoughts
In day trading you may experience fun highs, but it's a risky business too. Consider various points before getting into day training. Determine your trading personality and don't forget to start with low investments. There are plenty of websites where you can seek online day trade training from professional brokers. Do your research before choosing a trader and beware of online scams. 
REFERENCES
Mitchell, Cory. "What You Need to Know About Day Trading." The Balance.

https://www.thebalance.com/day-trading-basics-4842107

.

"First Steps to Become a Professional Day Trader." Market News & Forecasts, Charts, Broker Reviews. https://www.fxempire.com/education/article/these-are-the-first-steps-to-become-a-professional-day-trader-482932.

Marlintemp. "How to Become a Day Trader (10 Steps)." Marlin Selection Jobboard. November 03, 2020. https://www.marlinselection.com/how-to-become-a-day-trader-10-steps/

Mitchell, Cory. "20 Tips to On How to Become a Amazing at Day Trading." The Balance. https://www.thebalance.com/how-to-become-a-better-day-trader-4105136.

O'Shea, Arielle. "What Is a Brokerage Account and How Do I Open One?" NerdWallet. December 02, 2020. https://www.nerdwallet.com/article/investing/what-is-how-to-open-brokerage-account.